#JoshDallasIsMyBabyDaddy
It's a real-life fairytale for Once Upon a Time actors Ginnifer Goodwin and Josh Dallas! The engaged couple are expecting their first child and are tweeting their happiness.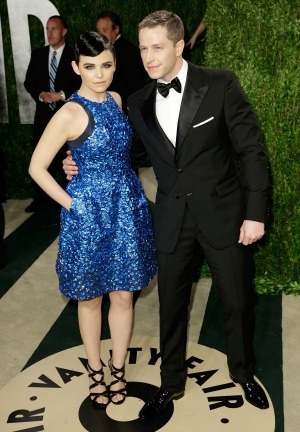 There's a bun in the oven for Snow White and Prince Charming!
Actress Ginnifer Goodwin, 35, and her costar Josh Dallas, 31, who play the parts of Snow White and Prince Charming on the storybook show Once Upon a Time, recently announced their pregnancy.
Rumors of Goodwin's pregnancy have been circulating since she was photographed on the set of the ABC show wearing a gray swing coat that appeared to be hiding her stomach (Us Weekly).
A rep for the Big Love actress first confirmed the news with People and the happy couple later shared their excitement with the twitterverse:
It's true! There's a bun n my oven! Thank u all, frm the bottom of my heart&bump, 4 ur loving support. #JoshDallasIsMyBabyDaddy #OverTheMoon

— Ginnifer Goodwin (@ginnygoodwin) November 20, 2013
It's true! The bun is baking away! Thanks for the outpouring of love & congrats! #GGismyBaker #PopDallas #littlecharmer @ginnygoodwin

— Josh Dallas (@joshdallas) November 20, 2013
The best part about their tweets? The adorable hashtags the couple used.
Papa-to-be Dallas agrees: 
My favorite hashtag from @ginnygoodwin #JoshDallasIsMyBabyDaddy

— Josh Dallas (@joshdallas) November 20, 2013
Dallas has been smitten with Goodwin from the start. "I think falling in love is always a surprise, right?" He told People "It hit me like a blinding light. I thought, 'I'm in trouble now.' "
The engaged couple first met on the set of their hit show and went public with their relationship in April 2012. They announced their engagement in October.
Details of Goodwin's pregnancy, such as her due date and child's gender, have yet to be released.
More celebrity baby news
Celebrity baby weight: Who dropped it fast, who took their time
Baby on the way for Olivia Wilde, Jason Sudeikis
Reasons to be happy you're not a pregnant celebrity