Breast Milk Benefits
A new study says giving babies solid foods while still breastfeeding might help protect them from food allergies.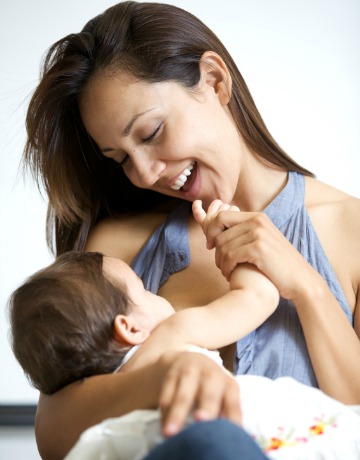 British researchers from the University of Southampton have found yet another item to add to the list of breast milk benefits.
In a new study published Nov. 18 in the online edition of Pediatrics journal, researchers say that gradually introducing solid food while still breast-feeding and waiting until the infant is at least 17-weeks-old before introducing food might help protect the baby from developing food allergies. This approach of starting solids with breast milk can help the immune system recognize that food is safe.
"Mothers should continue to breast-feed beyond introducing solids into the diet so the immune system can benefit from the immunological factors in breast milk that educate the immune system," lead researcher Kate Grimshaw, allergy specialist at the University of Southampton, told HealthDay.
"My theory was that if food allergens -- those things that infants actually become allergic to -- aren't there at the same time as the breast milk, the breast milk can't educate the immune system," she said.
Researchers looked at 41 children who had developed food allergies by the age of 2. This group was compared with 82 other children who did not have food allergies. The study found that children with food allergies started on solid foods earlier -- at about 16 weeks or earlier-- than children without allergies. Children with allergies were also less likely to still be drinking breast milk when introduced to cow's milk and various forms of cow's milk protein.
The study supports the current American Academy of Pediatrics' (AAP) recommendation of waiting to introduce solids until the baby is 4 to 6 months of age. It also supports the AAP's recommendation of continuing to breastfeed when solids are introduced to the baby's diet and that breastfeeding should ideally continue for at least 1 year.
Dr. Vivian Hernandez-Trujillo, director of allergy and immunology at Miami Children's Hospital, questions the study's findings.
"Unfortunately, we still don't have all the answers when it comes to food allergies," Hernandez-Trujillo told HealthDay. "It appears that breast-feeding may be protective, but we still don't know why."
Even if there isn't a complete correlation between breastfeeding and food allergies, Hernandez-Trujillo admits there are still many benefits.
"Breast-feeding is good for the child in many different ways, and it may be helpful in possibly preventing food allergies," she said.
More pregnancy and baby news
TTC may take longer for women with asthma
New study reveals exercise during pregnancy boosts babies' brain power
Baby's birth in typhoon-ravaged Philippines celebrated