First Festival Of Lights
From a plush dreidel toy to interactive books, check out these 8 Hanukkah gifts for baby.
1
A onesie that glows
A onesie that glows in the dark. How cool is that? The 100 percent organic cotton onesie has a Hanukkah graphic that will light up in the dark. Organic glow-in-the-dark Hanukkah onesie, Modern Tribe, $27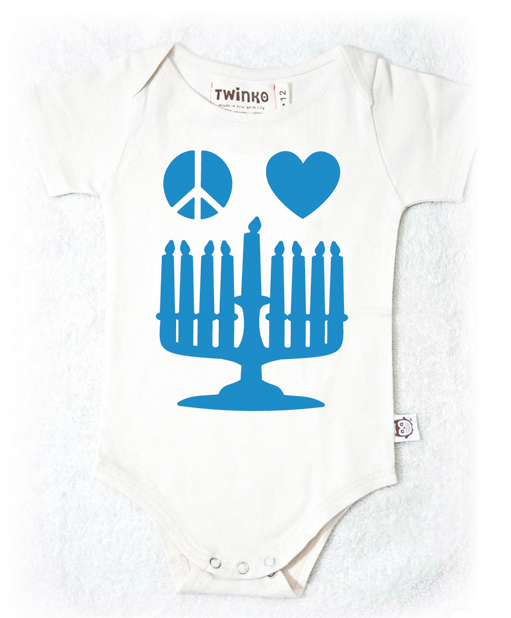 Keep babe warm during the chilly winter nights with a pair of styling socks in the traditional Hanukkah colors of blue and white. Hanukkah socks, Trumpette, $5
Baby might be too young to light a real Menorah, but they'll have fun seeing you "light up" this wooden play Menorah. Wooden blocks on the top rotate to symbolize a candle flame. Play Menorah, Pottery Barn Kids, on sale $39
Your tot might be too small to play with a real dreidel set, but he or she can get in on the fun with a soft and colorful dreidel toy that plays "The Dreidel Song." Plush Musical Dreidel, Party City, $7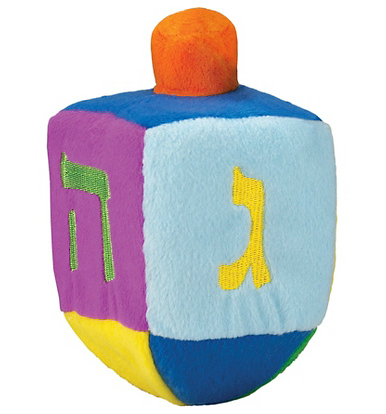 5
Where is baby's dreidel?
She might not have the physical coordination to spin a dreidel yet, but your baby will love this interactive hide-and-seek board book where she can lift various flaps to find Hanukkah symbols. Where is Baby's Dreidel?: A Lift-the-Flap Book, Barnes & Noble, $6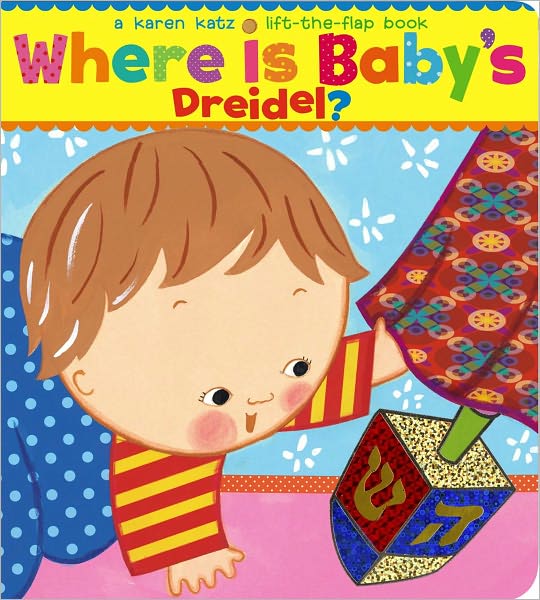 6
Explore traditions together
Babies love tactile toys where they can feel new and different sensations. This touch and feel book features traditional Hanukkah scenes like lighting candles, eating latkes, and playing the dreidel. Bright Baby Touch and Feel Hanukkah, Amazon, $3
7
Celebrate Hanukkah with George
Fans of favorite children's book character Curious George will love this tabbed board book. George and his buddies experience Hanukkah traditions like learning about mitzvah. Happy Hanukkah, Curious George, Amazon, $7
8
The ultimate gift basket
Having a hard time deciding on a gift? This ultimate Hanukkah gift basket has everything from clothes to baby's first soft Menorah. Baby Boutique Hanukkah gift basket, Amazon, $119
More gift ideas
Holiday shopping guide: Feeding baby
Holiday shopping guide: Apparel for baby
Great gift ideas for a one-year-old baby