Introducing Your Newborn Baby
Announce the arrival of your bundle of joy with a picture of your sweet newborn. Here are 3 tried and tested birth announcement ideas.
Your world gets turned upside down after giving birth and trying to coordinate a birth announcement can fall down the list of priorities in favor of simple tasks like brushing your teeth, taking a shower, and, ahem, using the ladies' room.
Modern moms seem to be turning away from traditional birth announcements in favor of posting a quick picture of baby on Facebook, but a photo birth announcement does more than just share the details of your baby. It's a memento for loved ones to hold on to.
Plus, who doesn't love getting a picture of a baby in the mail?
Rather than choosing just one way of announcing the birth of my daughter, I did a combination of announcements using our newborn photos.
Here are 3 tried and tested birth announcement ideas:
1) Mail a traditional photo announcement to family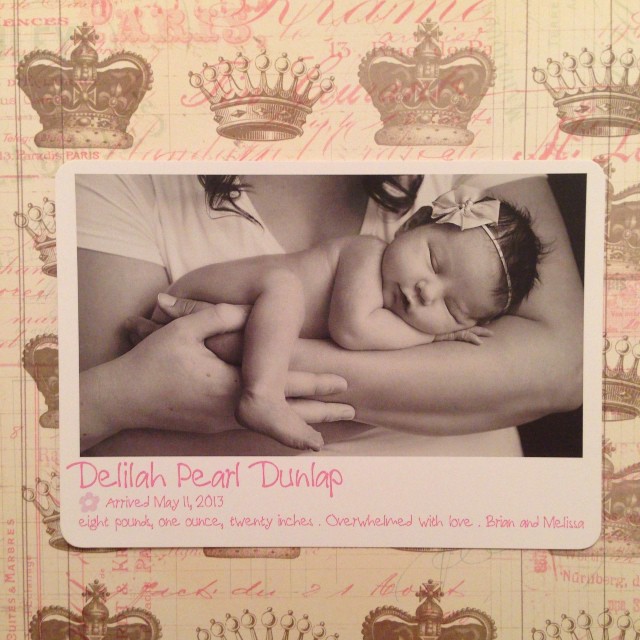 A simple layout with a classic photo lets your newborn take center stage and can be framed by family and friends.
I chose this photo card by finestationery.com since it had space for a larger image. I was pleasantly surprised with the heavy card stock and image quality.
Paired with a simple scrapbook paper of crowns, it also looks great framed for a long-term display of our little princess.
For a glitzy photo card option, I love this metallic dots birth announcement.
2) Order personalized flowers for someone special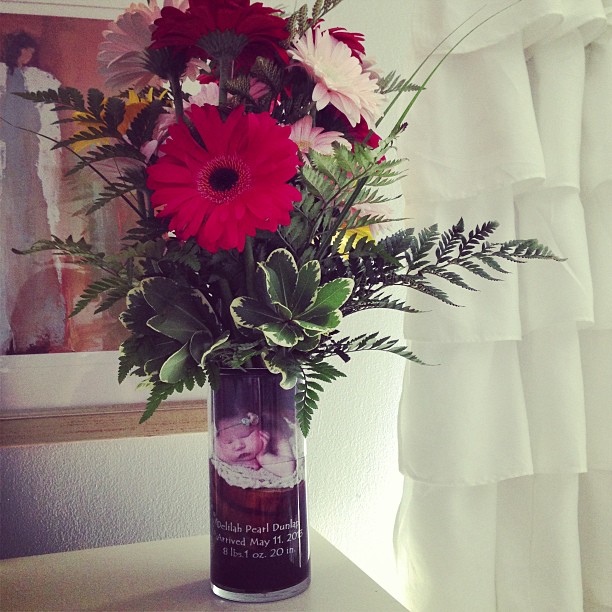 If Grandma is bummed she can't be there for the birth, consider sending a special announcement just for her.
This personalized photo vase from 1800flowers.com can be customized with your favorite photo and, depending on your zip code, can be shipped the same day to announce your little one.
It also makes a great gift for new moms who are recovering from childbirth. I received this photo flower arrangement after my daughter was born and it looked great in our nursery.
3) Send an e-card to colleagues and friends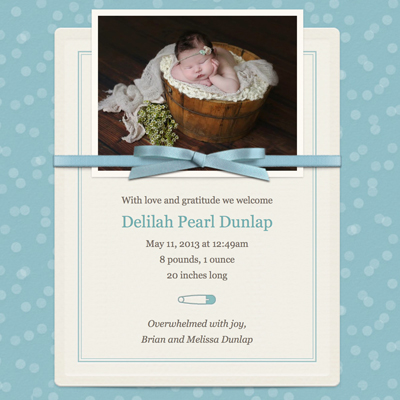 Newborn photos are usually done in the first 10 days of baby's life and photographers typically need a few weeks to put pictures through post-production before you get your images. While you're waiting, ask your photographer for one image that can be used for an e-announcement. If that option isn't available with your newborn photography package, ask if you can take a picture with your camera phone during your photo session.
While waiting for our official birth announcements to mail to family and close friends, I sent this announcement using a basic Mac e-mail template.
There is also a cool option to send both a photo e-card and postal card birth announcement from celebrations.com. While I haven't personally tested this option, I think it can be a huge timesaver for new moms since it covers both electronic and paper mail options.
Plan ahead
Make it easy on yourself by selecting your birth announcement style a few weeks before your due date so all you have to do is order it after getting your first baby pictures back.
And seriously? Don't stress about getting them out ASAP after baby is born. Your loved ones will appreciate the picture regardless of when they get it. Just try to get the birth announcements out before baby's first birthday, OK?
Writer's note: While I was supplied with samples of some products mentioned above for review, all opinions are my own.
Photo credits: Melissa Dunlap; Newborn photos by Cream n Cocoa Photography
More baby pictures ideas
A pro's tips for working with a newborn photographer
Newborn photography tips for moms
Sharing your baby's pictures on social media