Baby, It's Cold Outside
Gear up to keep baby warm — and safe — all winter long.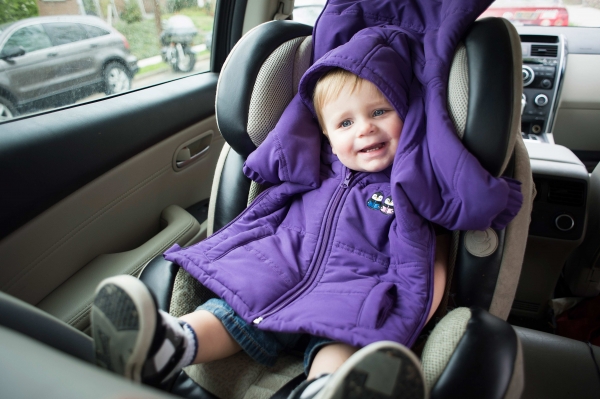 Car-seat safe coat
Did you know that babies and young kids are not supposed to be put into their car seats while wearing their heavy winter coats? Cherlyn Jenkins, a mom of two, started CJ Kids, LLC when she found this news out for herself. She couldn't find a solution available on the market to solve this dilemma so she invented the Cozywoggle, a coat that partially unzips when you need to safely put your baby or toddler into the car seat.
Stroller cover
Another alternative to strapping baby into his car seat in his jacket is the use of a BundleMe cover, with inner faux shearling linger and soft outer thermaplush, to place over baby when he's strapped into his car seat, stroller or jogger. This product also promises not to compromise baby's safety by not interfering with the integrity of the car seat or stroller harness and buckles.
Rain cover
In addition to covering baby, you may find a rain cover for the entire stroller helpful if you have to brave the elements during rainy or snowy weather. Before you purchase a rain cover, ensure that the product is compatible with your particular stroller brand and size.
Hat with chin strap, mittens
Covering baby's head is essential for keeping him warm during the cold winter months. But how many hats have to you lost due to baby whipping them off and tossing them out of the stroller as you're cruising along? I can think of a few in my own case! When buying baby's winter hat, make sure to purchase one with a strap that fastens securely under baby's chin. Mittens are another tricky one, as babies tend to want to ditch those as well. Find a pair that are secured together so it's a bit more difficult to lose them both at once.
More on baby and wintertime
Winter fashion for your tot
Barefoot is best... even in winter
Handling the holidays with a new baby