Baby's First Boo
Is it your little goblin's first Halloween? Check out these fun ideas for celebrating baby's first boo!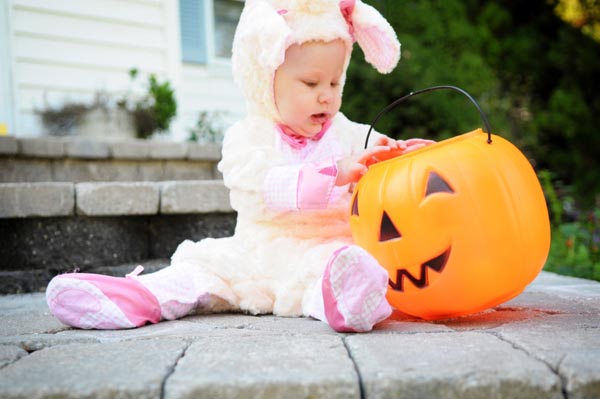 1
What to wear
We know, it's so tempting to go all out and dress baby to the nines in a super cute Halloween costume. If your plan is to dress baby in a costume and go "trick-or-treating" at Grandma's just for a photo op, then by all means, go for the ultimate baby Halloween costume.
If your little goblin will be wearing the costume all day while out and about, then consider one that's comfortable, allows easy access for diaper changes and is warm enough for the weather. Halloween onesie costumes and outfits are great alternatives to a full getup.
2
Where to go
For some first-time parents, figuring out what to actually do for baby's first Halloween can be tricky. After all, previous traditions for celebrating the spooky holiday (haunted houses, slasher films and midnight costume parties) are out. Instead, look for family-friendly activities.
Pumpkin festivals, costume parades, even casual get-togethers with family and friends are all fun alternatives. Your baby will enjoy the stimulation of seeing all the colorful costumes and enjoy the company. Taking older kids out trick-or-treating? Ditch the stroller so you don't have to navigate busy sidewalks and use a baby carrier instead.
If you're in a cold-weather climate, look for activities that are indoors so baby can stay comfortable (and you don't have to cover up that cute costume with a coat). Some malls offer trick-or-treating and look for local businesses or organizations that offer Halloween activities.
3
Start early
Since babies tend to hit the hay early, consider starting your Halloween celebration earlier in the day. Hit up a few spots to go trick-or-treating in the early afternoon, preferably after baby's afternoon nap. For families that are home during the day or if you prefer to do an activity on the weekend when you're off of work, we love this idea of having a Halloween breakfast potluck.
4
Pass the candy
OK, we know it's not Halloween unless you get your trick-or-treating on. But rather than hitting up the entire neighborhood collecting candy (because let's face it, you're the one that will be dipping into the Snickers stash, making it even harder to loose the rest of that baby weight), go for a walk around the block to check out all the cute costumes the kiddos are sporting, then head back to the house to hand out candy. Your little one will love seeing all the costumes close up, she'll be warm and comfy in your house and you will have all the essential baby gear close-by if needed.
If your hood has a lot of older kids around, just be sure to scope out the costumes in advance so baby doesn't get freaked out if a monster comes to the door.
5
Take pictures...lots of pictures
Let's get real. Your baby isn't going to remember the first time she wore a Cinderella costume or her fist visit to a pumpkin patch, so make sure to take a photo of the memory so you can show her when she's older.
Some snapshot ideas include: baby's first costume, a trip to the pumpkin patch, a picture next to their first Jack o' Lantern (or if you're really crafty, try replicating this pumpkin picture on Pinterest), one of mom and dad together "trick-or-treating." If nothing else you'll have some great photos for the baby book and, if you get some really great shots, the pictures can be used for Halloween decor next year.
More Halloween fun
4 DIY baby costumes from HGTV.com
5 Ways to dress your bump for Halloween
Celebrate a subtle Halloween