First Child For Star And Director Husband
Morena Baccarin, known for her role on Showtime's Homeland, and her husband Austin Chick, welcomed their first child, a baby boy, via successful vaginal breech delivery.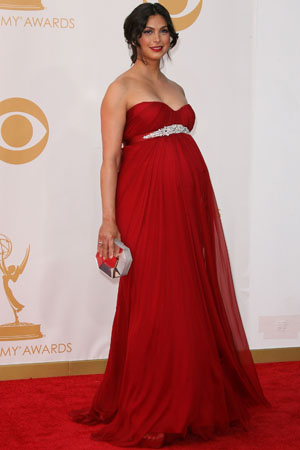 When a baby is said to be breech, this means that he is not head down for delivery. Breech deliveries of first-time mothers are often done via scheduled C-sections, but actress Morena Baccarin of Showtime's Homeland found an obstetrician who would work with her to avoid a surgical delivery.
Breech baby for Morena
Baccarin said that she worked hard to find a physician to allow her to attempt a vaginal delivery for her breech pregnancy. First-time moms who have a breech baby on board are usually signed up for surgery. Sometimes external versions (attempts to rotate the baby into its proper place with experienced hands on the mother's belly) are tried near the due date, but that isn't always successful — often, this is done in the hospital with a surgical suite nearby in case Mom or Baby has trouble. And if it fails, the mom-to-be is usually scheduled for surgery, if not that day, then soon.
Moms who have already had a successful vaginal birth are considered to be better candidates for a breech vaginal delivery because they've proven that their pelvis can accommodate a newborn's head — something that a first-time mom doesn't have the luxury of.
Baccarin, who is also known for her role as Inara on the short-lived science fiction show Firefly, and her husband happily had a successful attempt with the help of Dr. Ronald Wu at Glendale Adventist Medical Center. He is known to be the only physician in the Los Angeles area who offers moms-to-be the option of vaginal delivery in the case of a breech presentation. They named their little boy Julian and both mom and baby are reported to be in good health.
"I'm so happy I was able to deliver with Dr. Wu," Baccarin told PEOPLE. "Breech delivery is a dying art and he gave me the birth experience I wanted."
More celebrity babies
Wow! British royal lookalikes bathe "Prince George"
Halle Berry and Olivier Martinez welcome baby boy
Jessica Simpson gives birth to baby boy
Image credit: Adriana M. Barraza/WENN.com