Small Parts Have A Choking Hazard
Two charming toy building sets for ages 18 months to 5 years have been recalled because of a choking hazard. If you have Softimals from Infinitoy, you'll want to check this out.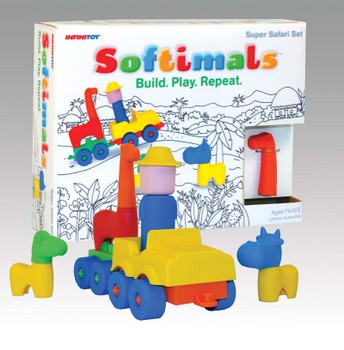 Over 7,000 building toy sets from Infinitoy have been recalled because some of the pieces are too small and pose a choking hazard for kids who are under 3.
Product Description: This recall focuses on some Softimals building sets from Infinitoy. Being recalled are Super Safari Set model #30025 and the Deluxe Circus Train Set model #30040. These sets come in a white box marked ages 1 ½ to 5, and with the words, "Softimals. Build, Play, Repeat." Each set contains pieces that can be assembled into vehicles that pull animals, and the drivers each have a small yellow or blue hat.
Where/when it was sold: These recalled toy sets were sold at specialty toy stores nationwide and online at Amazon.com and Mindware.com from September 2012 to September 2013 for around $25 and $40.
Reason for recall: The small hats pose a choking hazard. There has been one report of an 18-month-old child gagging on a hat which was promptly removed, and no injuries have been reported.
What you need to do: Parents should immediately remove the hat and contact Infinitoy for a free replacement figure.
Company information: You can contact Infinitoy, Inc. toll-free at (888) 558-0933 from 9 a.m. to 5 p.m. PT Monday through Friday, or check them out online at www.infinitoy.com (click on Safety/Recall at the bottom of the page for more information).
More recalled baby products
Recall: Badger Kids and Baby Sunscreen
Recall: The Children's Place footed pajamas
Recall: Baby Jogger car seat adaptors
Image credit: USCPSC