Baby's First Autumn
The weather is becoming crisp and the leaves are changing color. Fall is here! Get ideas for what to do with your little pumpkin during autumn.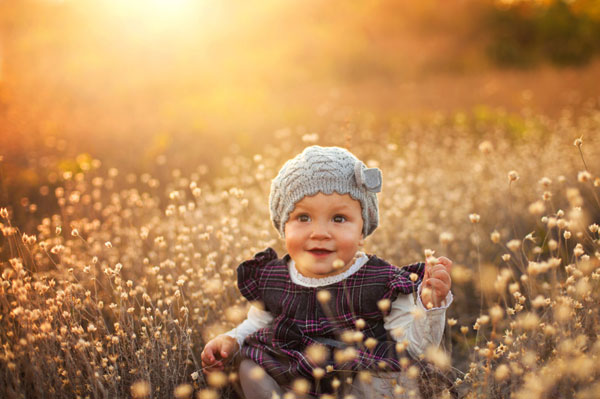 This classic fall activity is a must with your little one. Sure, they might be too little to have fun picking out their own pumpkin, but you'll get some awesome photos out of the experience. Consider taking a tripod with you and take a few family photos to put in your baby book.
Once you snag that perfect pumpkin bring it home and turn it into a Jack o' Lantern. Babies love feeling different textures so let yours feel the outside of the pumpkin and even stick her hands in and play around with the pumpkin guts (just be sure to watch your baby closely so she doesn't end up with a mouthful of raw pumpkin). You might want to keep a camera handy for this messy photo op.
3
Rake the leaves...then jump right in!
Burn off those last few pounds of baby weight by raking fallen leaves in your yard. It can totally be a cardio burner -- especially if you baby wear your little one while walking around the lawn. Once a substantial pile has been made, jump on in with baby!
Okay, Okay, we understand if getting dirty isn't your thang. After all, blowing out your hair is sort of a luxury these days with a having a new baby to take care of and the last thing you want is to get nasty leaves in your sleek 'do. Instead, just bring baby up close to the pile of leaves and let him look at all the colors, listen to the crunch of the leaves and feel the crisp, dried texture. It can be a fun sensory experience.
Hate doing yard work? Go for a walk instead. Meet up with another mom friend, grab a pumpkin latte, and go for a stroll in the neighborhood to check out all the beautiful trees changing color. Collect a few colorful leaves while you're out and do a fall leaf craft project.
Throw your bambino in a baby carrier and stroll through an apple orchard. You can sip a cup of hot apple cider and recharge your batteries while baby gets some fresh air. If you're super ambitious, go apple picking while you're there. Take home a sack of fruit to make homemade apple sauce (and maybe snag an apple fritter as a treat for yourself...we won't tell).
If you're already introducing your little guy to baby food, pick up a few ingredients that are popular during autumn. Apples, butternut squash, winter squash, pumpkin, pears, acorn squash, and sweet potatoes are great beginner food choices with fall flair. Need some inspiration? Check out these homemade baby food recipes for fall.
More activities to do with baby
Indoor activities to keep baby busy
How baby can enjoy the snow
Plan the perfect 24-hour baby schedule