A DVD To Dance To
Tired of singing the same old lullaby to your baby? Check out this Monkey Monkey Music DVD for fresh new songs and interaction ideas you can do with your little one.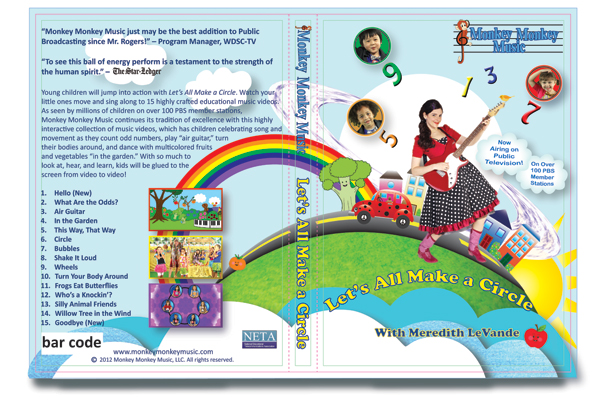 Let's face it, there is only so many times the wheels can go round and round on the bus before it runs out of gas. While we love classic nursery songs, sometimes it helps to spice up the song selection and bring some new tunes into the mix.
We're sharing the 411 on the music DVD Monkey Monkey Music: Let's All Make a Circle to see if it can provide some new musical inspiration.
The Rundown
Meredith LeVande is the public television star and musician behind Monkey Monkey Music. Let's All Make a Circle is a follow-up to her popular first DVD The Videos with Meredith LeVande (2010), which was a NAPPA Honors Award Winner.
The DVD is a series of 15 playful music videos. The colorful videos have a combination of children and animated characters. The songs are interactive and kids are encouraged to sing along and dance.
Let's All Make a Circle is 45 minutes long and can be purchased on monkeymonkeymusic.com for $19.99 + tax.
Our Take
The DVD is geared towards children ages 2-5, but I heard it can also be a fun interactive activity to do with your baby so I decided to try it out with my 5-month-old. I admit, I'm a bit of a nerd and actually enjoy a lot of children's music, but I've been getting bored with some of the old standby songs and needed to mix things up a bit. I was pleasantly surprised with the tunes on this DVD.
Each song is just a few minutes long, which is just enough time to hold both your and baby's attention without dragging on. The songs are pretty catchy and are fun to dance along to. Preschool-aged children will like jumping and shaking along to the songs, but since my baby was too young to move on her own, I clapped my hands with her and moved her arms to the music, which she really enjoyed. She especially liked the song "What Are the Odds?" 
The inside jacket of the DVD has a teaching guide of supplemental activities you can use to further engage children while watching the videos. As a parent, I found this really helpful.
All in all I found the DVD to be a nice activity we can do at home together in addition to the baby music classes we attend.
For more information, visit: monkeymonkeymusic.com
Note: A DVD was supplied by the brand for the purposes of this review. All opinions are my own.
More activities to do with baby
Indoor activities to keep baby busy
Art activities for babies
What should I do with my baby all day?