Ditch The Weight Gain Obsession
Gaining weight throughout your pregnancy can make you uncomfortable and even sometimes a little sad that the number on the scale keeps going up. Give yourself some slack and focus on the amazing parts of pregnancy instead of a silly number on the scale.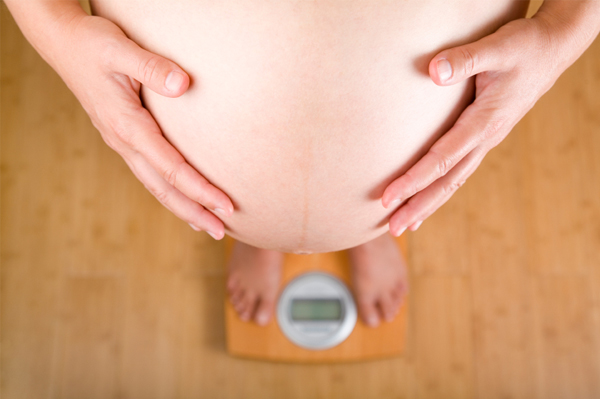 Forget the number on the scale
Women in our society tend to be a bit upset if the number on the scale keeps going up... and up. Remind yourself that for each pound you gain, you're building a healthy little human and a safe home for him for the next nine months. If you are obsessed with weighing yourself, tuck your scale away in the back of your closet until (well) after you give birth.
Be healthy
Instead of using pregnancy as an opportunity to indulge in every pregnancy craving that strikes, adopt a whole new take on eating healthfully for two. Talk to your doctor about the components of a healthy pregnancy diet and get her recommendations for exercises that are approved for you during pregnancy.
Wear comfortable clothes
Instead of feeling like a sausage trying to stuff yourself into your skinny jeans, opt for some more comfortable clothes during pregnancy. By no means are we suggesting you hide out in muumuus for the remainder of your pregnancy. Maternity clothes are so fashionable and totally comfortable, too. So treat your pregnant self to a well-deserved shopping spree. Choose pieces that parallel your pre-pregnancy style and don't be afraid to show off — not hide! — your newfound curves.
Focus on how you feel
Instead of focusing on your weight, think about the journey you and your baby are on together. Revel in the amazing moments of pregnancy like seeing baby in the first sonogram photos, hearing his heartbeat for the first time and feeling his kicks and movements from within.
Give yourself a goal
If your pregnancy weight gain is still upsetting to you, allow it to serve as a positive motivator to get back to your pre-pregnancy figure once baby arrives (and your doctor gives you the okay to go on a diet and exercise program). But we suggest you take the pressure off yourself and simply enjoy the changes that your body goes through during and after pregnancy.
More on pregnancy
Adjusting to pregnancy
8 Expert tips for healthy pregnancy nutrition
Expert tips for staying fit while pregnant