Daughter Nahla Is
Now A Big Sister
Halle Berry and her husband Olivier Martinez welcomed their baby boy on Saturday, making her 5-year-old daughter a big sister.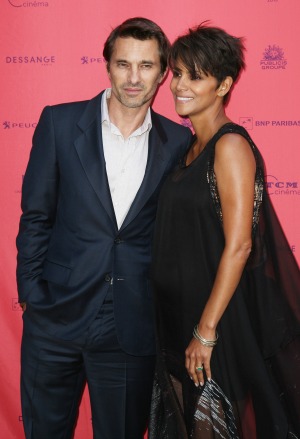 No name or birth details have been released, but the happy news was announced that actress Halle Berry delivered her baby boy on Saturday, making her a mom of two and her husband, Olivier Martinez, a first-time father.
Mom again at 47
Halle, who announced her pregnancy when she was 46 years old, has flipped a calendar year during her pregnancy and was 47 when she delivered her son. It was reported that she had her little boy at Cedars-Sinai Medical Center in Los Angeles. Her first child, with ex-boyfriend Gabriel Aubry, is a 5-year-old girl named Nahla. The former couple settled a custody dispute in 2012.
Halle and Olivier Martinez were married in July. Olivier is a well-known French film actor, and is the same age as his wife. Earlier, he had expressed delight and excitement when the couple announced their pregnancy and was looking forward to being a dad for the first time. The pregnancy was a surprise for the couple, and Halle had mentioned that she didn't think it would be possible at her age of 46. Fortunately for the new mom and dad, it was, and their little surprise has made them both really happy.
In the meantime, as she recovers from birth and the new family gets to know their baby, we will have to wait to find out if a name has been chosen, and what it might be. Halle's daughter's name, Nahla, is a name with Arabic roots and means "drink of water." A variant of the name, Nala, was the main female character in The Lion King and its sequel. Nahla is an unusual name, so her baby brother's name may be just as uncommon.
Halle is set to star in a 13-episode television drama called Extant. She plays an astronaut who returns home after a year alone in space.
More on celeb pregnancies
Halle Berry pregnant again at age 46
Halle Berry has a baby boy on board
Star Wars creator George Lucas welcomes daughter
Image Credit: WENN.com