Why Wheat Germ
You can add a number of nutrients and vitamins to your pregnancy diet by simply incorporating wheat germ into your meals.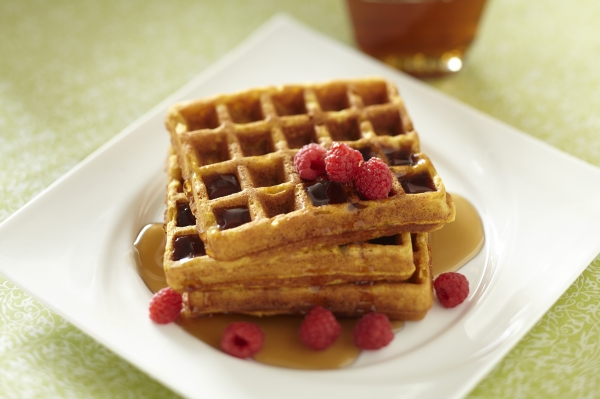 What is wheat germ?
Wheat germ is the part of wheat that sprouts and grows into a new plant. It is actually the part of wheat that gets left out when wheat is processed into refined flour, according to Kretschmer Wheat Germ. The vitamin- and mineral-rich wheat germ is packed with fiber, is a good source of non-animal protein and contains no sodium.
Why is it good for pregnant women?
Wheat germ provides a helping of folate, or folic acid, which can help prevent birth defects. It is also rich in zinc, which is not only necessary for proper growth and development but it also is instrumental in fighting off viruses, helping wounds heal, DNA synthesis and proper cell division.
How should I eat it?
Wheat germ can be sprinkled on yogurt, cereal or oatmeal, tossed into smoothies or used as a replacement for nuts on salads or desserts. Or you can use them in this yummy pumpkin waffle recipe provided by Kretschmer.
Pumpkin waffles with wheat germ
Waffles packed with wheat germ and good-for-you pumpkin are a healthy way to start your day!
Ingredients:
1 cup Krusteaz Belgian Waffle Mix
1/2 cup Kretschmer Honey Crunch Wheat Germ
3/4 cup low-fat buttermilk
1/4 cup canned pumpkin
3 tablespoons vegetable oil
1/2 teaspoon cinnamon
1 egg
2 tablespoons brown sugar
Directions:
Preheat waffle iron. If using a nonstick waffle iron, no oil is necessary. If using one that requires greasing, follow manufacturer's instructions.
In large mixing bowl, whisk together all ingredients until combined.
Add 1/3 of batter to center of preheated waffle iron, close lid and bake for 3 to 5 minutes or according to waffle maker instructions.
Using a fork, gently remove waffle from iron and serve immediately. Serve waffles with maple syrup, jam or a sprinkle of powdered sugar. While cooking other waffles, keep prepared waffles warm in 200° F oven.
More on pregnancy nutrition
Should pregnant women limit fish intake?
8 Expert tips for healthy pregnancy nutrition
Nutrition during pregnancy — Calcium