A Modified Workout For Runner Mom
We're impressed! A four-time Olympian has revealed that she kept up her running workouts up until three weeks before her daughter was born.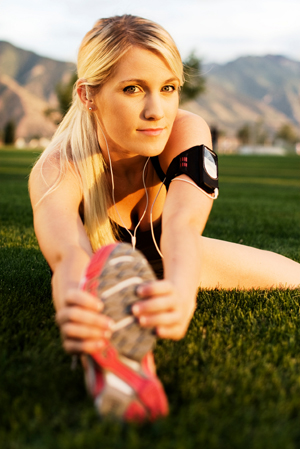 Jo Pavey, a four-time Olympian from the U.K., has recently become a mom of two, and she has revealed that she kept up her daily running routine until just three weeks before her daughter's birth.
Modified workout
Before she got pregnant with her first baby, she was running around 120 miles each week. After his birth, she was restricted for awhile while she recovered and breastfed her new baby.
As soon as she found out she was expecting a second child, Jo, who has competed in four Olympics (Sydney, Athens, Beijing and London), modified her usual running routine. She would go out for 40 minute runs near the beginning of her pregnancy, and towards the end, she was only running for around 30 minutes each time. She also said that only ran at an easy pace and wore a heart monitor during her pregnancy. She ran until around three weeks before her little one was born.
Exercising during pregnancy
She did say that women can absolutely exercise and run during pregnancy, but she doesn't think that it's the time to start if you haven't been running before. This reflects what most doctors and midwives suggest — modifying exercise that you're already doing, but not jumping into hardcore training if you've not done it before.
Her daughter was born via C-section, so she's going to have to take a little more time to recover from the birth, but she plans on getting back into it as soon as she can. "I will return to training when I'm ready depending on how quickly I heal," she said. "I'll start with some easy jogging and gradually make my way back to full training."
She hopes to make it a fifth Olympics in Rio.
More incredible moms
Marathon runner didn't know she was pregnant
Surprise! Mom gives birth at her own baby shower
Mom has surprise 10-pound baby