But Co-Sleeping Could Still Raise SIDS Risk
A new study shows that co-sleeping extends the amount of time mothers exclusively breastfeed their babies... but experts still recommend against it.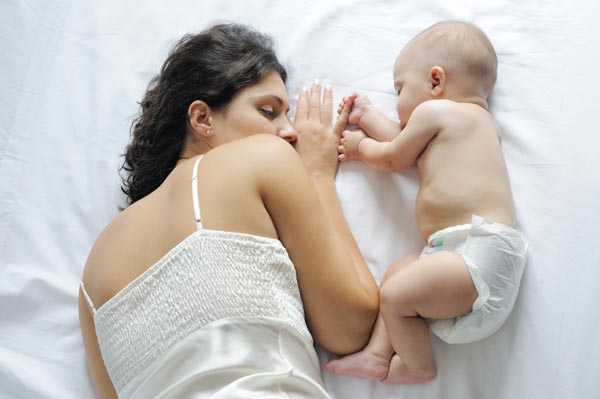 Expert opinion
While co-sleeping often enables moms to breastfeed for longer periods of time, since sleep is less interrupted this way, Dr. Fern Hauck from the University of Virginia School of Medicine in Charlottesville, says, "My bottom line is that yes, we now see with more evidence that breastfeeding is supported by bed-sharing, however we don't recommend it, because the risk of SIDS and sudden death is still there."
Breastfeeding in bed
Hauck, the study author, and her colleagues reviewed data from a big infant feeding study. They focused on approximately 1,800 mothers that were breastfeeding when their baby was two weeks old.
The women were surveyed 10 times in the baby's first year, and asked whether they were still breastfeeding and when they had quit. At seven different times during the course of the study, they were also asked if they were sharing a bed with baby. At two weeks, 42 percent of new moms were co-sleeping with baby and at one year, 27 percent were still doing so.
Among all the study participants, the average duration of breastfeeding was seven months, with exclusive breastfeeding lasting just shy of 10 weeks. The surveys showed that the women who were bed-sharing tended to be the ones who were breastfeeding the longest, with some still doing so at the end of the year-long study.
In fact, more than half of the women who shared their beds with their babies were still breastfeeding at the end of the year-long study period. However, only half of the women who reported that they did not sleep with their babies were breastfeeding at all by 30 weeks.
The bottom line
This is good news for The World Health Organization, which recommends exclusive breastfeeding until a baby is six months old, and that mothers continue breastfeeding with the addition of solid foods through age two. However, the American Academy of Pediatrics still recommends that infants be put to sleep close to their parents, such as in the same room in a bassinet or crib, but not in the same bed to reduce the risk of SIDS.
More on breastfeeding, co-sleeping and SIDS
Hidden benefits of breastfeeding
Co-sleeping arguments: Are they valid or just rants?
SIDS and babies of color: What you need to know