Help The Father-To-Be Find His Role
A woman's role during pregnancy and delivery is quite clear. But a father-to-be's role is not quite so cut and dry. Help your man get involved in your pregnancy and delivery.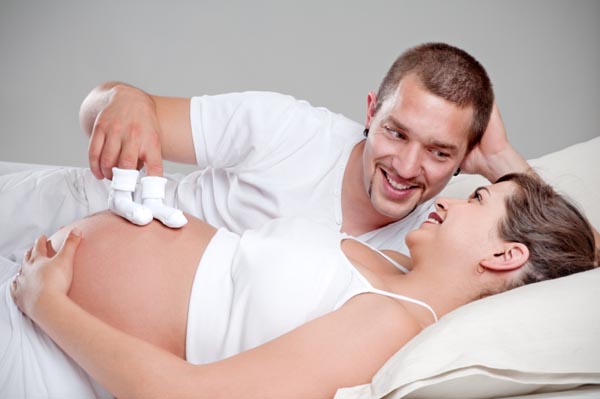 Read pregnancy and baby books together
You don't have to hand your honey a stack of baby books and suggest he get reading. Make reading about your pregnancy a couple's activity by reading aloud a few paragraphs (or even sentences) of that particular phase in your pregnancy. I highly recommend doing this with the book Your Pregnancy Week By Week, which gives you an overview of baby's expected size and growth in any given week of your pregnancy as well as interesting facts about the baby's development at that time.
Register together
For me, registering for our first baby was one of the most overwhelming parts of pregnancy. I'm not going to lie — I almost had a meltdown in Babies R Us in the middle of the endless aisles of baby bottles, breast bumps and everything else.
I am grateful for my patient and ever level-headed husband who suggested we take a break to go out for Mexican food (my favorite and most common craving during pregnancy) and come back to finish up at another time. The point is, having the father-to-be with you during these experiences not only gives him an opportunity to be involved in the pregnancy, it can also bring the two of you even closer together.
Ask for his help
Whether you need a hand carrying the groceries in or are feeling emotional and just need to vent, turn to your man. He may be feeling confused about his role in the pregnancy and will be grateful to lend a hand where needed. He'll also be the hero of the day when all the nursery furniture needs to be built and the stroller put together!
Let him bond with baby
Some men may get nervous if you ask him to talk to the baby or feel the baby kick. However, babies in utero can actually sense love from their parents according to research by Carista Luminare-Rosen, PhD, author of Parenting Begins Before Conception: A Guide to Preparing Body, Mind, and Spirit for You and Your Future Child. If he's unsure of what to say to baby-on-the-way, have him read a bedtime story or even play an instrument if he's musically inclined.
More on dads-to-be and new dads
8 Ways for dads to bond with baby
How to deal with new dad concerns
Dad's involvement in your baby's life