Support Bar Failure Can Lead To Falls
Do you have a car seat adaptor for your Baby Jogger stroller? If so, it may have been recalled.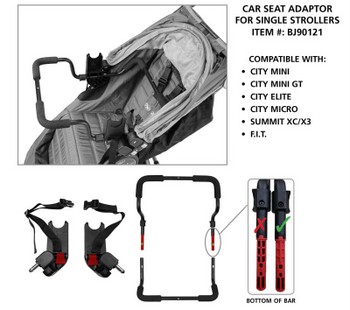 Around 23,700 (in the United States) and 6,500 (in Canada) car seat adaptors for Baby Jogger strollers have been recalled because the support bars can fail, which can be a fall hazard.
Product Description: This recall focuses on car seat adaptors for Baby Jogger strollers. They come in three models and are used to secure several different types of car seats to the stroller. The "Single" model fits all single strollers, the "Double" works only on double strollers and the "Select/Versa" fits Select and Versa strollers.
These adaptors consist of two black U-shaped aluminum support bars (labeled A and B) and two black plastic adaptors. Parents use black nylon straps to secure the car seat to the adaptor on the stroller. The "A" support bar is larger than the "B" bar and has a red plastic tip that has 10 holes.
Please note: Newer models have four holes and are not a part of this recall.
Model numbers can be located on the lower right hand corner of the original package, and the manufacturing date can be found on a sticker that is on the bottom of the package. The recalled adaptors were manufactured between April 1, 2012 and Sept 20, 2012. The dates are written year, month then day, like "2012.09.20."
Model numbers:
Single: BJ90121
Double: BJ90221
Select/Versa: BJ90321
Where/when it was sold: These recalled adaptors were sold at Buy Buy Baby and other juvenile and baby product stores nationwide and at albeebaby.com, amazon.com, buybuybaby.com, diapers.com and other online retailers from June 2012 through June 2013 for around $60 for the single adaptor and $100 for the double adaptor.
Reason for recall: The support bars can fail. Baby Jogger has received 47 reports of failure resulting in car seats falling to the floor, including two incidents of babies who suffered bruises to the head and toes.
What you need to do: Stop using the adaptors immediately and contact Baby Jogger for free replacement support bars.
Company information: You can contact Baby Jogger toll-free at (877) 506-2213 from 8:30 a.m. to 5:30 p.m. ET Monday through Friday or check them out online at www.babyjogger.com and click on "Recall Information" tab at the bottom of the page for more information, or you can email recall@babyjogger.com.
More recalled baby products
Recall: Halo SleepSack Wearable Blanket with satin flowers
Recall: Toy light-up duck and frog toys from World Market
Recall: Rockland Furniture Round Crib
Image credit: USCPSC