Gear Designed For Nursing Moms
End World Breastfeeding Month with a bang as you round out your baby gear with some products especially designed for nursing moms.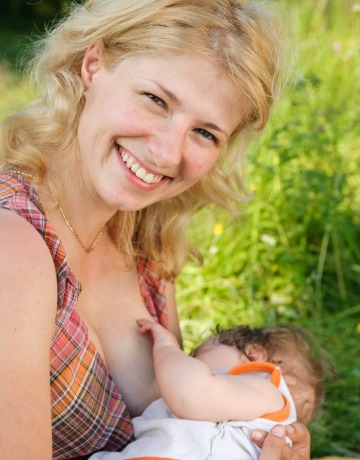 World Breastfeeding Month is drawing to a close, but that doesn't mean that you can't continue to promote and advocate for breastfeeding and the mothers and babies who are nursing every month of the year! These products make nursing even easier. Check them out!
Piyo Piyo breast pump
While many moms use electric breast pumps, manual breast pumps are the go-to choice for many breastfeeding mothers. Piyo Piyo offers an affordable manual breast pump (Piyo Piyo, $40) that is ergonomically designed to fit tightly with the breast to work quickly and smoothly. And it's adorable, too -- how can you resist trying one out?
Comotomo baby bottles
Comotomo's fully-evolved baby bottles (Comotomo, $14) have been called "breastfeeding in a bottle." They mimic mom's soft skin -- they're soft and squeezy, which can seem more familiar to a nursing baby. Even though they are very soft, they are of 100 percent medical-grade hygienic silicone. These bottles are perfect for pumped milk or the transition from breast to bottle.
Poncho Baby's Baby Bibby
This baby bibby from Poncho Baby (Poncho Baby, $20) is perfect chin cover for a dribbling, drooling or otherwise messy baby. They come in a pack of three cloths and a bag, which can be used for handy storage. The soft 100 percent cotton muslin cloth is multipurpose, working well as a bib, burp cloth, wash cloth, or napkin. They transport easily and make a great gift.
Piyo Piyo's adjustable nursing pillow
Breastfeeding pillows come in so handy from birth on up. Piyo Piyo has the perfect adjustable nursing pillow (Piyo Piyo, $45) for supporting baby or mom's waist and back while nursing. Even though a baby is small and doesn't weigh a lot, they tend to grow heavier as you hold them, which makes a nursing pillow a wonderful addition to your nursery.
More on breastfeeding
Breastfeeding tips for first-time moms
New report says most meds OK while breastfeeding
Breastfeeding may reduce Mom's risk of Alzheimer's