We're Having A Baby!
There are few times as exciting and memorable as the moment you find out you're pregnant. Second only to that is sharing the news with the father-to-be. Tell your man he's going to be a dad in a fun and creative way.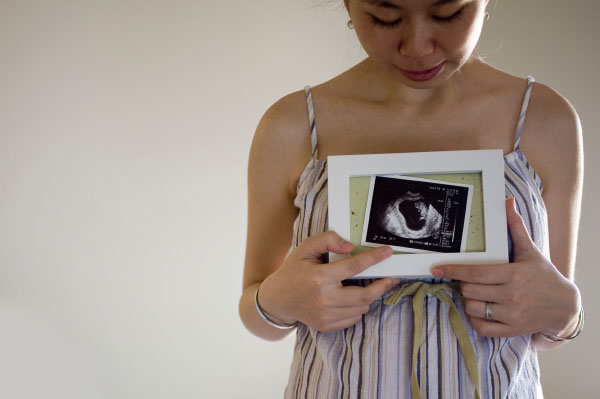 Say it with a T-shirt
Give your man a present of a custom t-shirt, coffee mug or key chain that announces the news via a cute phrase like "father in training" or "world's best dad in the making." Wrap it up and give him the gift during a nice dinner or when you're having a casual night at home.
Or don a cute t-shirt of your own with a message like "body by baby" or "baby on board" and let him be the first to see you wear it.
Frame it
If you've already had a sonogram and received a print out of baby's first photo from your doctor, buy a cute baby frame and then wrap it up for your man. Or put it on his desk in the home office and let him discover it on his own.
Say it with food
There are many creative ways to announce your pregnancy with food. Serve your partner a meal comprised of "baby" foods (like baby back ribs with baby carrots and peas, not pureed bananas and rice cereal!) or decorate an over-sized cookie or a cake with a special message like "guess who's eating for two?"
Know your man
If your partner is the kind of person who doesn't handle surprises that well or needs time to process big news, simply sit him down and share the news in a no-frills kind of way. If you try to spring a special surprise on him hoping for a big wow reaction from him, you may be disappointed.
Give him time to digest the news and respond in a way (and time) that's natural for him. Remember that even if you two were actively trying to get pregnant, the reality of the news is a big deal! Assure him that you love him and that your new phase in life -- as new parents -- is going to be amazing.
More on pregnancy announcements
30 Ways to announce your pregnancy
Is this pregnancy announcement over the top?
When should you announce your pregnancy news?