Like Father,
Like Daughter
A new dad was surprised when his baby girl was born in a parking lot, but not too surprised -- he was born in a parking lot himself 33 years earlier.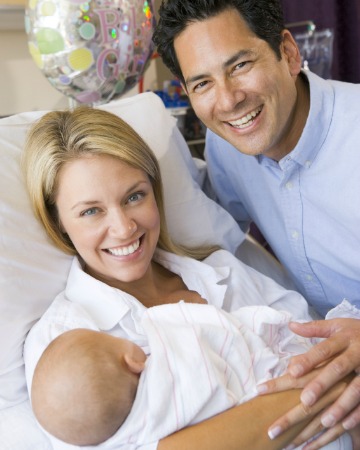 It was just around 33 years ago when Frank Pavlik made newspapers when he was born in the parking lot of a mall. And the day before his birthday, his baby girl couldn't wait for her mom to make it to the hospital, either, and was born in a gas station's parking lot.
Daddy and baby
Frank Pavlik's mom and dad were driving to the hospital on August 18, 1980, when they realized that they were definitely not going to make it. It has undoubtedly become a treasured family story, so Frank really couldn't believe that his own daughter followed in his footsteps.
Erica Pavlik was in labor, and her mom was driving her to the hospital. Suddenly, Erika's water broke, so her mother pulled over into a gas station and dialed 911. However, baby Hannah had no interest in waiting on the paramedics -- her grandma helped her mom deliver her in the front seat of their vehicle.
Frank had no idea that this was happening until his mother-in-law called him at work from the parking lot, telling him to get there as soon as he could. By the time he got there, Erica and baby Hannah were resting comfortably in the ambulance.
Healthy mom and baby
"So many things could have gone wrong, but she came right out. She wasn't messing around. It took her a minute to cry, but after that, everything went well," Erica told The Beacon News.
Hanna Grace Mary Pavlik weighed 6 pounds, 3 ounces, and aside from the first minute or so before she cried (a moment that tends to freak out parents everywhere, no matter where they have their baby), both mom and baby came through the birth unscathed. They spent a couple of days in the hospital recovering and are now home with Dad and two big brothers.
More cool birth stories
Mom has baby on hospital lobby floor
Surprise! Mom gives birth at her own baby shower
Surprise baby for mom with her tubes tied