Car Seat Canopy For Your Little One
Forget slinging blankets over your baby's car seat to keep the elements away -- Imagine Baby's car seat canopy, The Shade, is a modern, innovative and sophisticated way to protect your little one.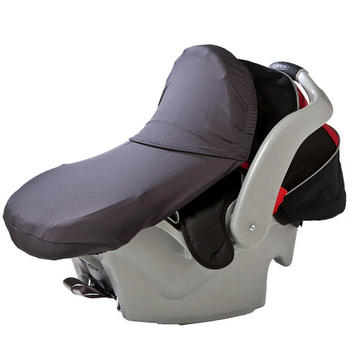 Most parents know that keeping the sun, wind, bugs, rain and cold off their baby when out and about is a priority, but most of us have resorted to tossing a blanket over the seat before heading outdoors. This is where The Shade (Toys 'R' Us, $40) comes in. It's a really sleek car seat cover -- one that you've never seen the likes of before.
Features
Sun protection: 50+ SPF protection from UVA/UVB rays
Breathable: Made from super lightweight, breathable material
Water wicking: Material wicks water away, instead of soaking it up like a blanket
Flexible fit: Designed to work with nearly all car seats
Free handle: The cover attaches to the hood of the seat, so you have access to the handle
Peek-a-boo: Side access ensures that it is easy check on your little one
Colors: It comes in four colors -- black, gray, red and pink
Space saver: Folds up without bulk and can easily fit in your purse or bag
Machine washable: Wash cold and hang to dry -- easy!
Our take
I've found myself using the old blanket routine, more than I care to mention, over the last 17 years of parenting I've done. It works, but it's really not ideal. I never liked it because if you drape it over the handle, then it makes it a little slippery, and if you put it over the baby's face, well, you've put it over your baby's face. Not good.
So I was really happy to see that The Shade addresses these needs and more. The folks at Imagine Baby could really tell that there was a place for a car seat canopy like this, and I think they did a great job. It looks sleek and modern and not at all babyfied -- not that there is anything wrong with being babyish, but with the four simple and classy colors, it's easy to match the canopy with just about any color car seat you have, and the best news is that it won't be a competing design, making the whole ensemble look busy.
It was easy to install, easy to remove and my friend and I enjoyed being able to easily access her little one on the sides. We both gave it a thumbs up, and think it'd be a terrific baby shower gift.
More baby gear
Radiation protection: New nursing cover from Belly Armor
Product review: Baby Trend Inertia Infant Car Seat
Review: Introducing the Ergobaby Swaddler