Six Kids For Reality TV Star And Husband
Reality TV star Kim Zolciak recently revealed that she is expecting twins with her husband Kroy Biermann, which will make six kids for their happy home.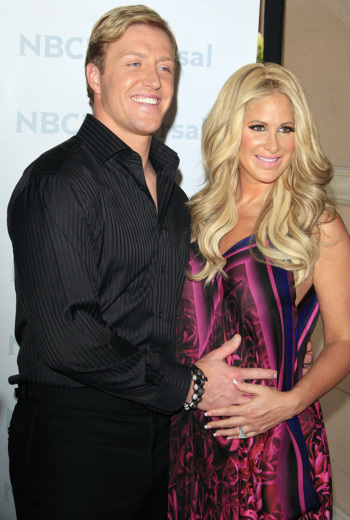 Kim Zolciak, one of the original stars of the reality TV show Real Housewives of Atlanta, recently announced that the pregnancy that she confirmed in late June is a two-for-one special -- she and her husband, Atlanta Falcons defensive end Kroy Biermann, are expecting twins.
Four under three
Kim has two older daughters from a previous relationship -- a 16-year-old named Brielle and a 12-year-old Ariana, both of whom Kroy recently adopted. Their first child together was born in 2011, a boy they named Kroy Jagger Biermann, Jr. They were married later that year, and their second son, Kash Kade Biermann, was born in 2012.
The twins are expected late this year, and when they are born, they will have a happy and full household. In addition to the older girls, they will have four children under three years of age.
Twins run in the family
Kim, who is 35 years old, told E! News, "I'm having twins and I couldn't be more excited. I was completely shocked. I had no idea. It was a natural conception, but twins do run in the family, so I guess I shouldn't have been surprised."
The two types of twins are identical and fraternal. Identical twins are those who look alike and started out as a single egg united with a single sperm. Early in development, that fertilized (and rapidly changing egg) split into two, so they share identical genetic material. Fraternal twins, on the other hand, happen when Mom ovulates two eggs at once and both get fertilized (normally, of course, women only ovulate a single egg each cycle).
Identical twins just happen, but fraternal twins tend to run in the family.
In any case, Kim and Kroy will definitely have their hands full by the end of this year. Congrats to them.
More celebrity pregnancies
Star Wars creator George Lucas welcomes daughter
It's a boy for Kate Middleton and Prince William!
Jessica Simpson gives birth to baby boy
Image credit: Starbux/WENN.com