Nursing Cover And Protection All In One
Are you hoping to keep your baby's exposure of radiation to lower levels? Belly Armor has launched a nursing cover just for you.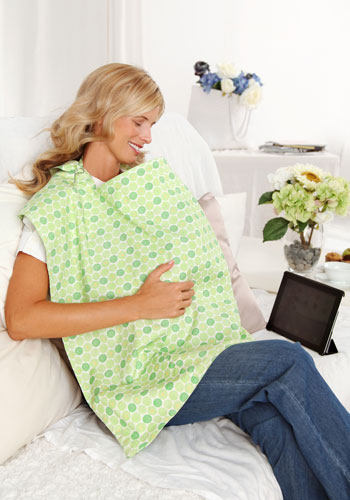 Belly Armor, the company behind a line of maternity products designed to shield a developing baby from the potential effects of radiation, has launched a nursing cover with the same purpose.
Nursing cover, with a purpose
The Belly Armor Nursing Cover ($49, Belly Armor) is lightweight and user-friendly. The RadiaShield® fabric doesn't weigh it down at all -- in fact, you can't really tell the difference between this nursing cover and a standard one, but you will feel more comfortable about protecting your little one from everyday radiation.
Features
Generous size: 31" x 33"
Adjustable strap: The easy-to-adjust strap can be worked with one hand
Convenience: Contoured shoulder straps and rigid neckline to peek at baby
Storage: Two pockets make for easy and convenient storage
Breathable: The fabric is lightweight, breathable and machine washable
Green packaging: Each nursing cover is packaged in high-quality, recycled packaging, perfect for gift giving
The nursing cover is made from 100 percent high-quality cotton and RadiaShield® fabric, which provides 99.9 percent shielding effectiveness.
What's the deal with radiation?
You probably know the dangers of some types of radiation. For example, when you go to get an x-ray, the tech will drape the rest of your body with lead-lined material so only one part of you gets exposed. But everyday radiation, also known as non-ionizing radiation, is present in our everyday lives. Sources of non-ionizing radiation include cell phones, PDAs, laptops, computers, mp3 players, portable media devices, televisions and power lines.
Research has shown health risks can be associated with everyday radiation. The Belly Armor site has tons of information on it, so don't forget to read up on the risks and then pick yourself up a nursing cover -- or if you're expecting, check out their maternity wear too.
More on breastfeeding
Breastfeeding may reduce Mom's risk of Alzheimer's
CDC releases Breastfeeding Report Card
Celebrate National Breastfeeding Month