Who's Going To Be In The Room With You?
There are lots of things to consider before you head to the hospital to deliver your little bundle of joy -- including who is going to be in the delivery room with you. Many pregnant woman are adamant about who they do (and definitely don't!) want in the room with them while they're pushing.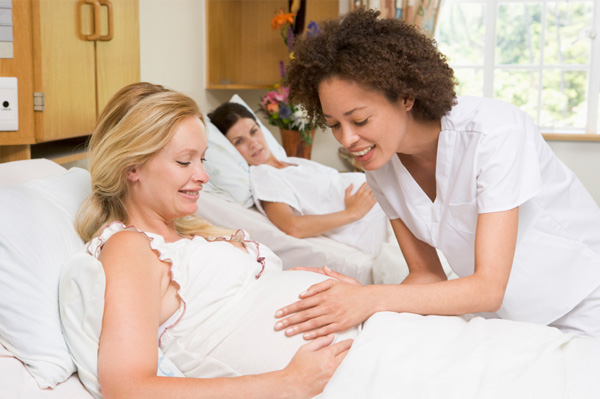 Husband or partner
It should be a no-brainer that the person who is bringing baby into the world with you is going to be in the delivery room with you. However, it wouldn't hurt to discuss your ideas of how you want your hubby or partner to participate in the delivery before the big day. Some partners are equipped with video cameras to catch every. single. moment. Others are instructed to say "north" squeezing your hand and gently coaching you while the doctor is down "south."
Have honest, open communication about the extent of participation you would like during delivery. It's also important to mention the kind of support you know you'll need in the delivery room. If he gets nervous or anxious when seeing you in pain, ask him to present a calm front during your labor. Practice calm breathing techniques together before the big day.
Mothers, mothers-in-law, sisters
Even if you are super-close with your own mom, step-mom, mother-in-law, sister or best friend and totally envision having them by your side in the delivery room, your husband or partner may not have the same vision of baby's birth. Again, talk about it with your partner first before you send out invitations for your delivery room "party."
Once you have made a clear decision with your partner or husband, then you can have a discussion with everyone else to either invite them to be by your side during labor and delivery, or let them know gently that you and your partner have decided to keep the labor and delivery private.
If you choose to (and the hospital in which you are set to deliver allows it), you can invite guests to join you after baby is born so they can be among the first to hold the new bundle and celebrate with you.
More on labor and delivery
Secrets of the labor and delivery room
Labor phone list
Labor lunch break?