First Child For George And Mellody
The Force is strong with this one! George Lucas and wife Mellody Hobson welcomed their first child together last Friday.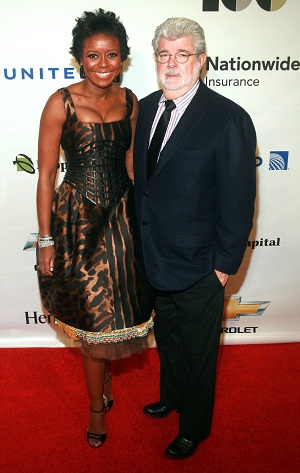 The Star Wars family has grown again. Despite George Lucas selling his Star Wars empire to Disney last year (to the tune of $4 billion, which he then donated to an education fund), he will always be associated with the iconic space opera that dominated our childhoods and continues to be a strong influence in today's pop culture. And now, he and his wife, Mellody Hobson, are the new parents to a little girl they named Everest Hobson Lucas.
First child for couple
George and Mellody were wed just a few months ago at his Skywalker Ranch in California, and the report of their daughter's birth revealed that they used a surrogate. This is the first biological child for George, 69, who also has three adopted children -- Jett, 20, Katie, 25, and Amanda, 32.
Mellody, 44, is the president of the $3 billion firm Ariel Investments, as well as a contributor on "Good Morning America." This is her first child.
Surrogate birth
A gestational surrogate describes an arrangement where the baby isn't genetically related to the surrogate, and a traditional surrogate is when the surrogate is the child's genetic mother, but has agreed to give up parental rights to the intended couple. The source article I consulted didn't indicate which arrangement they had, but they aren't alone in Hollywood for using a surrogate. Other stars include Jimmy Fallon and his wife Nancy Juvonen, who recently announced that their daughter was born through a surrogate. Also, Elton John, Nicole Kidman, Sarah Jessica Parker and Elizabeth Banks have also gone the surrogate route.
Welcome to the world, little Padawan!
More celebrity babies
It's a boy for Kate Middleton and Prince William!
Jessica Simpson gives birth to baby boy
New baby for Kim Kardashian and Kanye West
Image credit:  D. Salters/WENN.com