Say Om
Stressed for time as a new mom? Combine playtime and exercising with mama and baby yoga.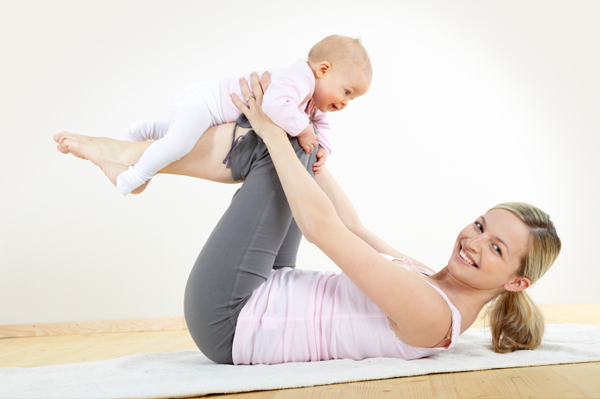 Doing yoga with your baby is a great way to start rebuilding your core strength after pregnancy while bonding with your baby in a playful environment. Stretching can help relieve the tension in your overworked shoulders caused by toting baby around. Breathing exercises can help you relax and reenergize — something all new moms need.
Yoga classes specifically designed for moms and babies encourage interaction since many of the poses either incorporate the child in the pose and moms can connect with babies if they need a little TLC.
Mama and baby yoga can provide your little one with stimulation and can help with muscle development. Some yoga classes also incorporate a little baby massage, which can help your baby relax.
Do some prep work
Trying to find your inner Zen is not easy if baby is fussy or hungry. Try to feed and change your baby before starting your yoga exercises together so the experience is more enjoyable. Place a folded blanket or a Boppy pillow next to your yoga mat where your baby can hang out. You might want to try yoga exercises during a time of day when your baby enjoys stimulation, whether it's first thing in the morning or after an afternoon nap.
Take a class
Taking a mama and baby yoga class is a great way to socialize and meet other new moms. There aren't many baby-friendly places to take a young infant and going to a class can help you avoid new mom isolation. The first time I went to a mom and baby yoga class I ended up grabbing coffee with some of the other moms afterwards which made the experience even more enjoyable.
Prices vary, but expect to pay anywhere from $10-$15 dollars for a 45-60 minute class. At first glance that might seem like a lot to spend for a short yoga class, especially with all the diapers and baby gear you're buying, but the socialization can be worth the splurge if you are getting cabin fever from being home with your baby.
Try a DVD
If there aren't mama-and-me yoga classes in your area or if it's too expensive, try popping in a DVD and doing stretches at home. My yoga instructor recommended Shiva Rea's Mama & Baby Yoga DVD, which I received a copy for review.
The 60-minute DVD is broken into three sections:
Mother's Body Toning: Primarily stretching and toning poses
Rising Up: Standing poses where you connect with baby while burning calories
Mother's Core Practice: Focus is on strengthening your core and rebuilding muscle tone
Shiva Rea leads you through a workout of yoga stretches while demonstrating how to interact with your baby along the way. Rea's body is super fierce and can be a huge motivator in getting your pre-baby body back.
The DVD says the workout is ideal for women with infants up to 6 months old. I first tried the workout when my daughter was 6 weeks old, but found some of the poses challenging to do with her since she didn't have neck control yet and I could only do them during her naps. It became easier when she was 3 months old and I could interact with her more during the exercises.
I really liked the stretches in the video since they helped me relax some of the muscles in my neck and shoulders that were tight from holding my baby. The yoga is a nice complement to the cardio stroller walks I've been taking daily to help shed the baby weight.
The DVD is a peaceful way to start the morning, but can easily be done in small segments throughout the day if you find it difficult to do all at once. After all, we all have those days as new moms where even finding time to take a shower is difficult.
More on fitness
Easy new mama exercise program guide
Exercising with your baby
MELTing might help with pregnancy and postpartum recovery