Innovative Car Seat
As a new mom car seat safety is especially important to me. The Baby Trend Inertia Infant Car Seat claims its LATCH installation system allows for proper installation in a blink-of-an-eye. We're taking a closer look at this innovative car seat design.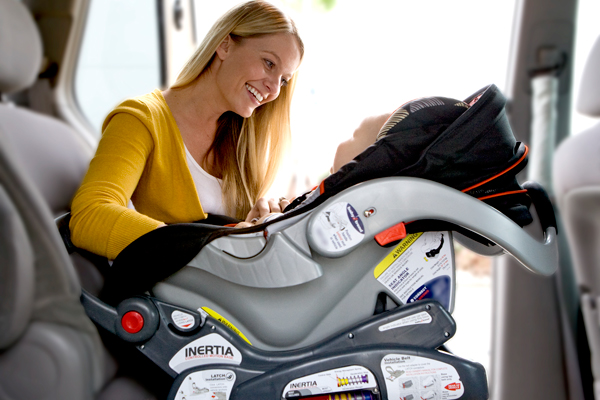 The rundown
Baby Trend introduced the new Inertia Infant Car Seat in March of 2013. The Inertia Infant Car Seat is more reclined than a traditional car seat, which allows an infant to ride more comfortably. Patented technology makes it easier for parents to correctly install the car seat using the LATCH system, while innovative designs like the multi-grip handle bar and large rotating sunshade increase functionality.
What it promises
From newborn to infant: The car seat can be used with babies from 5 to 32 pounds and up to 32 inches tall.
Easy installation: Push-button Latch connectors make it easy to correctly install the car seat in a flash. Just click into your car's LATCH anchors. An adjustable brace allows you to get a snug fit against the seat.
Reclined position for newborn comfort: Car seats that sit too upright can cause a newborn's head to flop forward and worry parents, but the Inertia Car Seat has multiple recline positions that'll work with your baby at various stages, including a fully reclined position for newborns. A recline button and indicator makes it easy to switch positions from most reclined to most upright.
Adjustable headrest: The head support can be easily adjusted with a knob on the back of the car seat using just one hand. The best part about this feature? It saves parents from having to rethread the 5-point safety harness each time baby has a growth spurt.
Controlled motion base: The most important feature in any car seat is the ability to keep your baby safe and the Inertia Infant Car Seat features a controlled motion base that responds to crash forces immediately by rotating upright to better distribute impact.
Ergonomic design: A new Delta multi-grip carrying handle makes it easier for parents to tote their little one around in the car seat since it allows for more comfortable carry positions. Smooth-curved sides keep the car seat from bumping into your legs.
Protection from elements: An extra-large canopy keeps baby covered while mesh side panels allow for air circulation. A removable fitted cover keeps baby warm on colder days.
Our take
As a new mom, I was excited to test the Inertia Infant Car Seat to see if the design held up to the hype. Here's what I found when testing the car seat with my 11-week-old daughter:
Pros
Installation: The car seat installation was effortless using the LATCH system. While I found the instruction manual a little confusing at first since as a new parent I wasn't familiar with all the terminology, watching this Inertia Infant Car Seat demonstration made the installation easier to understand. The indicators made it easy to verify the car seat was in the correct position. After installing the car seat myself with the LATCH system, I took it to a car seat safety inspection station to check it was installed correctly, which happily it was.
When I tried to install the car seat using just the seat belt method, I did not feel comfortable with the result and would only use this method if there were no LATCH system in the car and I could take it to an inspection station for help. The LATCH installation method was much easier.
Baby's comfort: The reclined position kept the baby's head at a comfortable angle, while foam cushions added extra support. My baby seemed really comfortable in cozy car seat design. I especially loved the extra-large canopy, which rotated from front to back and made it really easy to shield her delicate baby skin from the sun. The mesh canopy sides made it easier to check in on her when the canopy was fully expanded.
Mom's comfort: The car seat is relatively light and easy to carry. I really liked the Delta handle bar since it allowed me to carry the car seat in different positions and was comfortable to hold.
Dad-approved: My husband loved the unisex design and sporty look.
Cons
Tricky buckle: The belt buckle takes some practice since you have to put the two seat belt pieces together and insert them in the buckle at the same time. It can be a little tricky if you have a squirmy little one.
Not a travel system: While the Inertia Infant Car Seat doesn't not have matching stroller for an easy travel system, the Paseo Jogging stroller ($160) can be paired with it for a coordinating look. Any Baby Trend stroller that's car seat compatible can also be used, you just have to spend extra time researching which stroller to buy.
Only one design option: The car seat is currently only available in the Horizon fashion shown here, although more design options are scheduled to be released this fall.
Bottom line
The Inertia Infant Car Seat will particularly appeal to parents who are looking for a sporty design with great functionality. The padded headrest and multiple recline positions makes it an easy option to use from newborn to older infant. Parents who frequently travel and have to install car seats on trips will especially love how easy it is to properly install the car seat using the LATCH system.
Where to buy
The Baby Trend Inertia Infant Car Seat is available from Toys 'R' Us for $180. Visit babytrend.com for more information.
More product reviews
5 Favorite stretch mark creams, oils and balms compared
Review: Innobaby SMART products
Review of Ready, Set, Baby!, a parenting book for the iPad generation