Not Ruling Out
More Children
A Michigan family has welcomed a new baby to their family, which is happy news. What makes the story totally remarkable is the fact that this is their 12th baby -- and all of his older siblings are boys, too.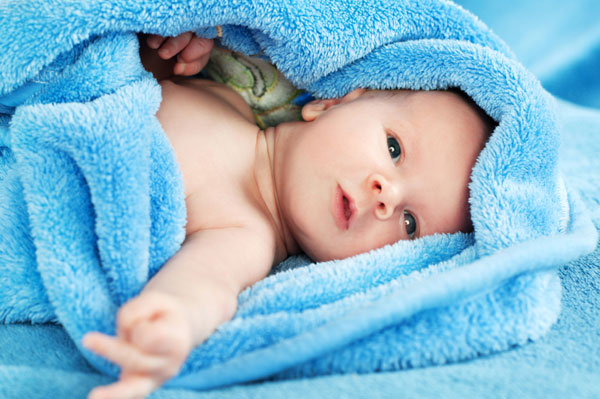 Kateri and Jay Schwandt had a baby boy on August 4, making him their 12th child -- and 12th son. Though they were hoping for a girl this time, it was not meant to be as Tucker Ray joined his 11 big brothers, who now range in age from newborn to 21.
Didn't find out!
Many pregnant moms find out the sex of their baby midway through pregnancy, but Kateri and husband Jay said that they never find out until delivery day. The suspense must have been overwhelming before Tucker made his arrival, but Kateri said that even though they don't find out, it's always a boy and while they're used to having boys, it's always a surprise.
Jay reported that he was hoping for a girl, as were several friends and family members, but they certainly have parenting boys down pat. Their family operates on tight schedules and their older kids have learned plenty of life lessons from being part of a large brood. Their oldest, 21-year-old Ty, says that he even enjoys helping ferry his younger brothers around.
More kids?
When asked, the couple admitted that they'd welcome another child, and hope that the 13th time would be the charm that gets them a daughter. They stated that their decision to have a large family came stemmed from religious preferences and Kateri is a devout Catholic.
Large families certainly aren't the norm -- I received disdain and surprise when I announced my third pregnancy (I now have four kids) -- but large broods are certainly interesting to those of us who don't have them. Even though my kids are generously spaced (my first three are all three and four years apart, then there is a seven-year gap between my two youngest) it can still be a huge challenge to just function enough to get through our days sometimes. I can't imagine triple the number kids in my home. Hats off to this family.
More on pregnancy
Creative ways to tell your family you're pregnant
5 Tips for helping siblings and baby bond
Baby Bargain: 10 ways to save big bucks on baby gear