Don't Sweat It
As the summer drags on and you become more and more pregnant, you might wonder how you can ever make it through another hot day. Chill out... we've got you covered.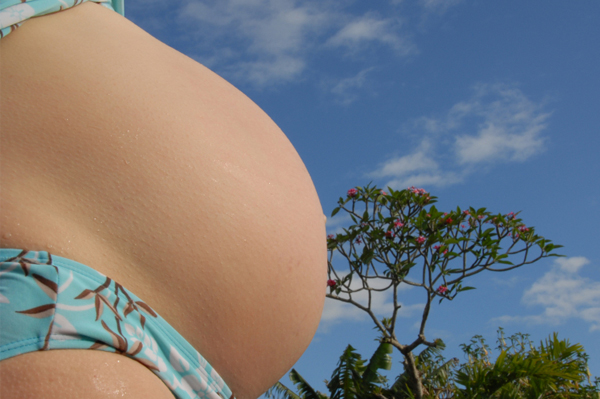 Exercise in the pool
Swap out your usual workout for some cool pool exercises like swimming laps or water aerobics. Not only will swimming cool you down, but many women find that floating or relaxing in the pool alleviates the heavy sensation in their pregnancy bellies.
Drink tons of water
As a pregnant woman, you should be hydrating often anyway but try to up your H2O intake even more during these dog days of summer to help cool you down. If you're bored of plain old water, freeze 100 percent juice into ice cube trays to drop in your water or add some interesting fruit combos (kiwi/strawberry, orange/pineapple, lemon/cherry) or veggie slices (think refreshing cucumbers) to your glass.
Head for the hills... or the mountains... or the beach
If you have the opportunity, take a babymoon with your honey before baby arrives. Sleuth out cool locales like a mountain bed and breakfast or beach-front rental home to take a reprieve from the heat. If you're traveling for great lengths, remember to take breaks from sitting in a car or plane. Stop at a rest stop to stretch your legs or walk the aisles on an airplane, so long as the flight attendants approve.
Kick up your heels
No, really. We invite you to kick off the pumps you've been wearing around the office and give your tootsies some air! Better yet, soak your swollen feet and ankles in a tub of cold water to cool you down.
Dress down
Embrace the final days of your pregnancy by wearing looser and lighter fabrics that allow your body to breathe as you navigate through the scorching days of summer. Think cotton camis (with supportive built-in shelf bras) paired with flowy skirts, maxi dresses and loose-fitting shorts without constricting waistbands.
More on pregnancy
Fun ways to enjoy your pregnancy
Perk up your pregnant self
Adjusting to pregnancy