New Report Highlights Increasing Rates
A new report from the CDC shows increasing breastfeeding rates across the board, which is good news for moms and babies alike.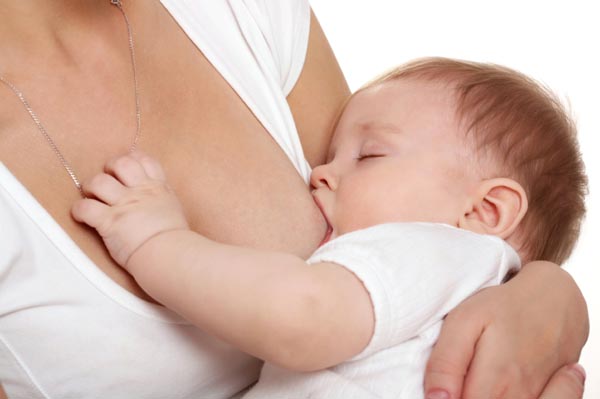 It's World Breastfeeding Week, as well as the first day of National Breastfeeding Month, and what better way to kick it off than by discussing the rates of breastfeeding in the United States? The Centers for Disease Control released the Breastfeeding Report Card for 2013 yesterday, and the news is good -- the data shows that 77 percent of new moms start breastfeeding their children, and nearly 50 percent of moms are still breastfeeding their babies at 6 months, which is up from 35 percent in 2000.
New factors and increasing rates
The CDC recommends that moms breastfeed their babies for at least six months, and the new study shows that nearly half of all moms are doing that. And the good news doesn't stop there -- at 12 months, 27 percent of moms are still nursing, up from 16 percent in 2000.
This year, the CDC also considered two new indicators of the quality of maternity care moms receive in the United States as factors in breastfeeding rates and success. The first is skin-to-skin contact after a vaginal birth, and the second is rooming-in for at least 23 hours a day.
From 2007 to 2011, the percent of facilities with at least 90 percent of the babies receiving skin-to-skin contact after a vaginal birth increased from nearly 41 percent to over 54 percent, and the percentage of facilities with at least 90 percent of moms rooming-in with their new babies most of the time rose from nearly 31 percent to just over 37 percent.
State-by-state rates
Another interesting aspect of the report is that it breaks downs breastfeeding rates on a state-by-state basis. The state I live in, Missouri, has a 77.5 percent rate of moms who breastfed (ever), and by 6 months, that percentage has dropped considerably -- only 39.3 percent of moms are still nursing at that time. Kansas, right across the river from me, isn't much different -- almost 73 percent of moms start out nursing, and by 6 months, only 41 percent still do. By contrast, 91.6 percent of California's moms ever breastfed, and by 6 months, it only dropped to 71.3 percent.
I'm encouraged at the increase in breastfeeding rates, and I hope that it continues to climb over the next decade.
TEll us
What is the breastfeeding rate in your state? How do you feel about it?
More breastfeeding information
The hidden benefits of breastfeeding
Back-to-work breastfeeding
How dads can bond with a breastfeeding baby