German Baby
Breaks The Record
A mother in Germany had a 13-pound baby girl last Friday, making her the largest baby ever born in that country. Mom had an undiagnosed case of gestational diabetes and was able to avoid a C-section.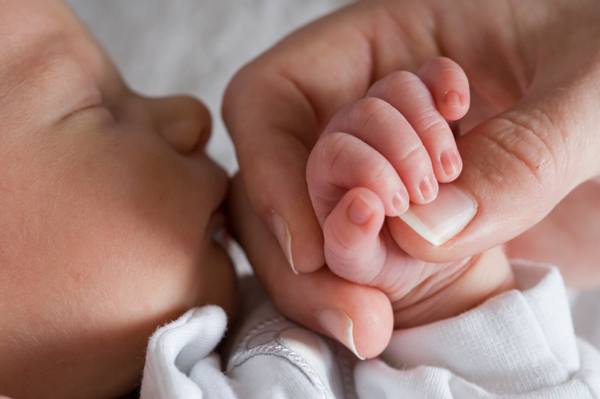 This is one for the record books! A baby in Germany has broken the record for largest baby born in that country. A baby girl named Jasleen surprised her mother (and probably the rest of the medical staff) when she arrived weighing 13.47 pounds and 22.6" long.
No C-section for this mom
The mother had an undiagnosed case of gestational diabetes, which is what led to the large size of her baby girl. Both she and Jasleen are reported to be doing well, but the baby does remain in in the NICU for now. This birth breaks a record set in 2011, when a baby boy named Jihad was born weighing 13 pounds.
Large babies can absolutely be born vaginally -- in March of this year, a British woman had a 15-pound baby vaginally! Sometimes, moms are told that their babies are "too big" to be born that way and are urged to have a C-section, often based on sonograms or practitioner estimation. Unfortunately, many of these moms have a surgical delivery, only to find out that their baby was smaller than expected.
C-sections are necessary in many cases, and are often life-saving for both the mother and the baby. But the rate in the U.S. is far too high (around 33 percent) and while most go off without a hitch, there are risks of complications (some that are serious) and recovery is harder.
Gestational diabetes screening
Most practitioners in the U.S. screen for gestational diabetes during the latter part of the second trimester, and if detected, moms are helped out with diet adjustment and sometimes insulin injection. As the screening is also carried out in Germany, I'm not sure why this mom wasn't identified -- perhaps she didn't have prenatal care or declined the screening.
I hope this not-so-little one recovers from her birth, and her mom too.
More on labor and delivery
How to avoid a C-section
Keeping your emotions in check during pregnancy
Why I chose a VBAC