Drop Side Rail Has Entrapment Hazard
The Nan Far Woodworking Company has recalled their Rockland Furniture Round Cribs, exclusively sold through JCPenney, because the drop sides of the cribs can lead to an entrapment hazard.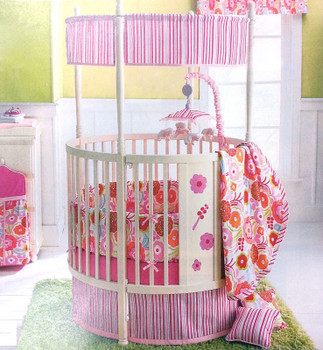 Nearly 4,000 round cribs are at the center of a recall due to the fact that the crib features a drop side, which can fall out of position and the infant or toddler can become trapped or fall out of the crib. Check to see if your round crib is covered by this recall.
Product Description: These round cribs, which are 44 ½ inches in diameter, were made by Rockland Furniture and have the model number 343-8314. The model number is located on a label, which you can find on the inner-lower portion of the crib rail. They were sold in white, cherry and ebony finishes.
Where/when it was sold: These recalled cribs were exclusively sold by JCPenney, both in store and online, from January 2005 to December 2008 for about $400.
Reason for recall: These cribs feature a drop side, which can suffer from incorrect assembly or age-related wear. It can also malfunction, detach or otherwise fail. This can lead to a space where the baby or toddler can become wedged or entrapped, and the child runs the risk of suffocation or strangulation.
What you need to do: Stop using the crib immediately and provide a safe sleeping environment until you contact the company and receive a free repair kit.
Company information: Contact Rockland Furniture toll-free at (877) 967-5770 anytime, or visit the firm's website at www.rocklandimmobilizationkit.com and click on "Round Crib Recall" for more information.
More recalled baby products
Recall: Kids II Baby Einstein Activity Jumpers
Recalled: Baby footed coveralls from Carter's
Recall: West Music egg-shaker toy instrument
Image credit: USCPSC