Music To Baby's Ears
Music has a way of evoking emotions of every sort. This is no different for babies. A happy song can have your baby moving and grooving while a slow, soft tune can lull him into sweet dreams. Make music a part of baby's life from the get-go.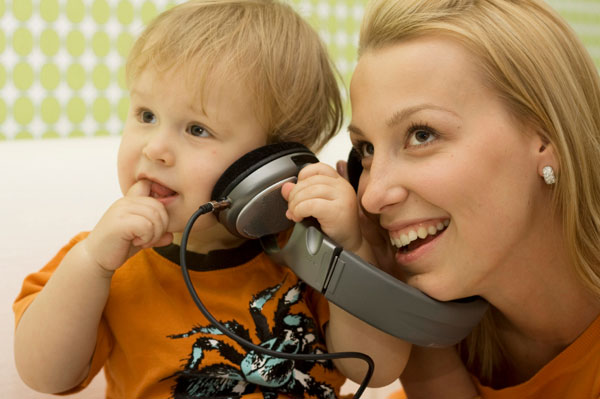 Sing to baby
New research by Patricia K. Kuhl, PhD., the Bezos Family Foundation's endowed chair in early childhood learning and a professor of speech and hearing sciences at the University of Washington in Seattle, and her colleagues shows that a baby can listen her mother's voice during the latter stages of pregnancy and learn from hearing her. Sing to baby in utero but also once she's born. In baby's first days, soothe her with sweet lullabies. As she gets older, teach her nursery rhymes and songs with hand motions like the Itsty Bitsy Spider and Pat-a Cake.
Take a baby and me music class
Musical Mommy and Me classes for infants start as early as four or six months are in no short supply. Check out local music classes for baby in your area. These classes offer a fun introduction to music, beats and rhythm as well as social interaction for both baby and mom.
Play a variety of music
Don't buy into the hype that those videos with classical music playing in the background will turn your baby into some sort of genius (though it may soothe him out of a crying jag). However, you should definitely tune your baby into some classical music as well as fun music geared for baby's taste (like Elmo) and other genres like pop or country.
Dance to the beat
One of my favorite memories of my son as an infant is when my own mother (his grandma) would turn on the Beach Boys. He would instantly reach his hands up to her and she'd scoop him up and they would dance around her family room together. The smile on his face, and hers, was priceless. The point is, music created this special bonding moment -- and an amazing memory -- for the two of them. Create your own bond with baby through music, dancing and singing.
More on baby and music
Does classical music make babies smarter?
Fetal development: What does your baby really hear in utero?
Rock-a-bye baby: Lullabies may help sick preemies