Car Seat Safety 101
New parents Prince William and Kate Middleton are already being criticized for their parenting snafus. Don't make the same mistakes.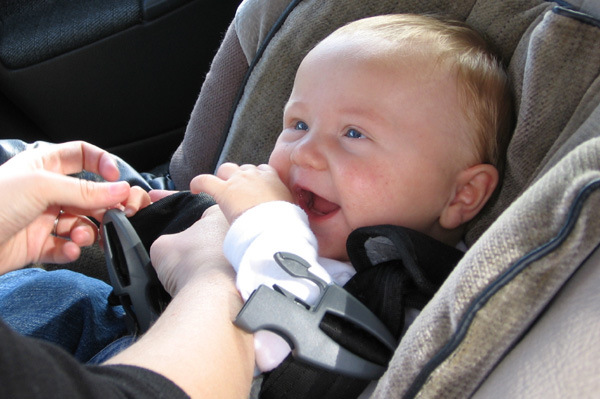 Never strap a swaddled baby into a seat
When Prince William and Kate Middleton took baby George home from the hospital, photographers captured photos of baby George strapped into his car seat while still swaddled -- a car seat no-no. The swaddle envelopes baby legs and arms, making it difficult, if not impossible, to correctly strap and latch the car seat straps around baby's body. The five-point harness style intended for infants needs to go over baby's shoulders and between his legs to buckle properly.
Make sure the straps are snug
The straps around the royal baby in the first photos are also very loose -- another new parent mistake. We totally get that Prince William may not want to crush the tiny future king -- all new parents are a bit overcautious when it comes to their babies. I remember treating my first born like a crystal football. The straps should be pulled securely -- not tightly -- around baby's body so that you can fit two fingers underneath.
While we're certain new parent phobias are simply at fault here for Prince William and Kate, we'd like to offer some additional car seat safety procedures:
Rear-facing is best
The American Academy of Pediatrics recommends that babies ride in a rear-facing car seat until they are two years of age. There are several types of infant car seats -- rear-facing only, convertible seats and 3-in-1 seats, but all have the option to be secured into the car (in the back seat, of course) in a rear-facing position.
Secure the car seat correctly
Installation of the car seat in the car is crucial. Follow the instructions on your specific model or see if the hospital where you deliver or the local fire department offers a tutorial on how to correctly install a car seat. The seat belt or LATCH belt must be routed properly to ensure safety.
Make sure baby's head is secure
When buckling the five-point harness, make sure the buckle is at baby's chest and that the seat is at a proper angle so baby's head does not fall forward.
More on baby safety
Newborn safety in the hospital
Playground safety for baby and toddler
High chair safety tips