Happy Birthday, Baby!
Baby's first birthday is one of the most exciting milestones in your child's young life. The best part is you can celebrate baby's big O.N.E. in style without going overboard.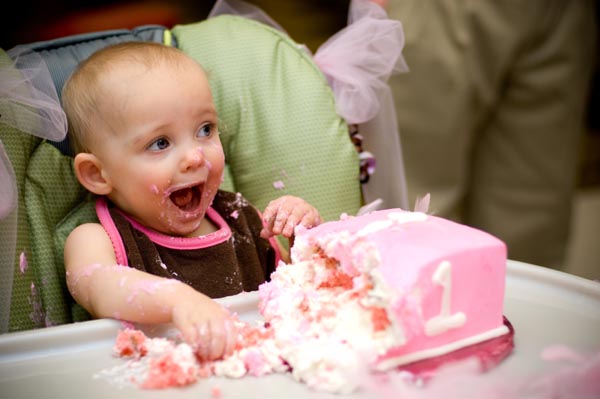 Keep the guest list to VIPs only
Keep the guest list to a minimum -- Grammys and Grampys, family and a few close friends. Too many guests and too much hub-hub may overwhelm baby. So skip the bounce house, dress-up character appearances and the like, as well. You'll have plenty of time for that when baby turns three, four, five... and, well, so on.
Plan the party around baby's schedule
No one wants the guests of honor to be cranky at his own fete so plan the party around a time when baby is happiest -- after nap time, for example. If baby still takes two naps, opt for a brunch celebration after Nap No. 1 or an early evening get-together after Nap No. 2.
Let baby dive in... to his own cake
Every new parent wants to capture the classic "baby's first nose dive into a cake" photo. A mini cake or cupcake is just the right size for baby to bust into and will still allow for fun photo opportunities without letting baby go head first into an entire cake. After a few handfuls, scoot the sweet stuff away from baby or prepare for major mood swings ahead! Meanwhile, serve guests slices from a "clean" cake.
Break out the camera
It may be tough for you to capture all the special moments throughout the party while you're playing host so assign a close friend or your mom as the designated photographer/videographer. Make sure you take the camera from her now and then so you can have some shots that include her, too.
Keep it short
Beyond a simple meal, cake and perhaps some present-opening, baby's first birthday party should be short and sweet. Baby will likely be ready for a nap by the time the party is winding down, which will give you some uninterrupted time to do the dishes, look through photos from the party or sit down and enjoy a glass of wine to toast your first year of parenthood!
More on baby's first
Baby's milestones: When should baby sit up? Crawl? Walk? Talk?
Baby's first two years: Brain building activities
Healthier first birthday cake ideas