Drool Baby, Drool
Need a bib for your little drooler? These unique bibs will help keep your babe nice and dry. You'll dig the cool designs and the clean kiddo you get after messy meals.
There are a ton of bib options available these days. While there are still plenty of traditional fabric bibs available, we're also seeing more bibs made from unique materials and with interesting designs. From catching rogue food to keeping baby (and you!) clean, check out these new bibs making a splash.
The catch-all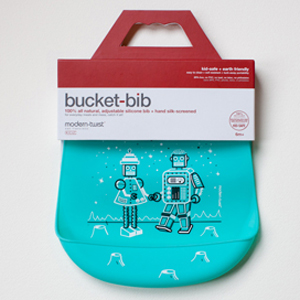 The bucket-bib from Modern-Twist is designed to catch those random splatters of food in a deep pocket. Made from a durable silicone material, the bib is super easy to clean—just wipe it down or throw it in the dishwasher with your tot's dinnerware. The BPA-free, no PVC bib is kid safe and can be recycled when your little one has outgrown it. Plus the colors and graphics are oh so cute!
Reversible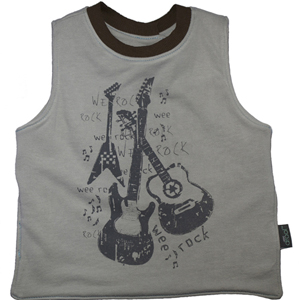 Tired of having to wash a bib after just one use? Check out Wee Drool bibs, a reversible t-shirt fabric bib. You can flip it inside out to cover baby's mess. This bib is great for big-time droolers since the 3-layered fabric with a waterproof liner will keep your little one dry. The bib has large armholes and a button back to help keep it in place. We especially love the Wee Rock design—perfect for your little rock star!
Made in the USA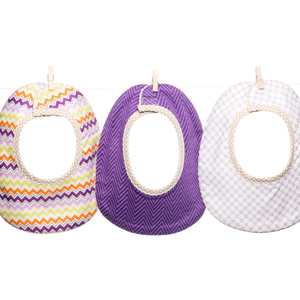 Petites Frites bibs are made right here in the USA with an earth-friendly approach to packaging and materials. We love the collection of playful patterns and bright colors. The smaller chin bibs can catch excess drool on your wee one while the full coverage bibs keep clothes protected during meals. The underside of the bib has extra soft fabric that's perfect for wiping baby's mouth. Look for coordinating blankets and burp cloths.
More than meals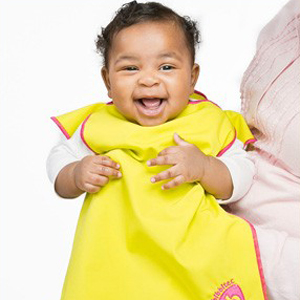 Featured on ABC's reality show Shark Tank, The bibbitec the Ultimate Bib was created by mom Susie Taylor to help contain kid messes. While the bib is more about function than style, the smock design will help keep your toddlers clothes clean during arts and crafts time. With slits for the head and arms, you don't have to worry about fasteners. The large, full-body bib with a fleece lining also does double duty as a changing pad in a pinch.
More on baby gear