Ace Knute Johnson
Has Arrived
Maxwell is now a big sister! Jessica Simpson and her fiance Eric Johnson welcomed baby Ace Knute yesterday.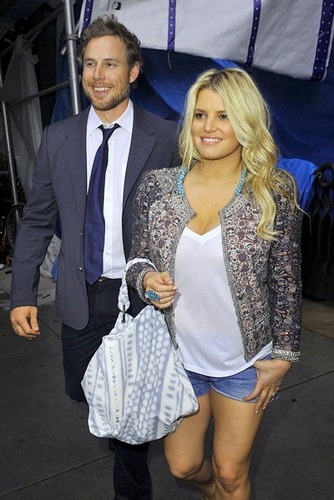 US News reports that baby Ace Knute has made Jessica Simpson a mom of two as she and her fiance welcomed him yesterday, June 30, via scheduled c-section. Mom and baby are reported to be doing well.
Ace Knute Johnson
Ace was born via scheduled c-section on June 30 in Los Angeles, and the source says that both mom and baby are healthy and happy. A very cool name was bestowed upon the couple's second child, joining big sister Maxwell Drew. Ace Knute (pronounced Ka-nute) is the baby's chosen moniker, and I have to say that it's a pretty neat one.
I have a hard time judging celebrity name choices (really, who am I to say someone's made a bad choice when it doesn't personally affect me) but I do admit that some names do make me cringe a bit. However, Ace is a cool name and Knute is unique but not totally out there, so I have to give props to Jessica and Eric on this one.
Back-to-back pregnancies
Jessica and Eric, a retired NFL player, engaged since the fall of 2010, have had to postpone their wedding due to her back-to-back pregnancies -- their kiddos are only 14 months apart. She hopes that they can manage to squeeze the nuptials in before she gets pregnant with another baby.
My kids are all nicely (and sometimes widely) spaced apart -- my first three are all three years apart, and my fourth is seven years younger than her next sibling. The spacing has its benefits and drawbacks. For starters, they were out of the baby stage before their next sibling arrived, and I never had to deal with competition or hurt feelings (when they were that age anyway). And the huge gap between the first three and the "baby" of the family has been, in many ways, divine. It's been wonderful seeing their relationships develop with her and I have had three built-in helpers, which has been amazing.
A drawback is that I've never really left the baby years behind. Oh I did for a bit when it took three years to get pregnant with my fourth, but now I'm 39 and have been parenting for a solid 17 years. Sometimes I wonder what it would be like if I had had them all in one little 8- or 9-year batch. I probably would have had some crazy times, but the crazy times would have lasted fewer years.
Overall, though, I can't imagine it any other way. I love my kids and love this family.
Tell us!
What is the spacing like in your family? Perfect, or would you prefer a do-over?
More on celebrity babies
Jessica Simpson's super cute pregnancy announcement
Kim and Kanye reveal baby name: North West
Kate Middleton's pregnancy gives England baby fever