Safe On-The-Go Snacks
Finding snacks for little ones can be a challenge, whether your family suffers from allergies or not. Dr. Lucy's gluten- and allergen-free snacks may be just what you're looking for.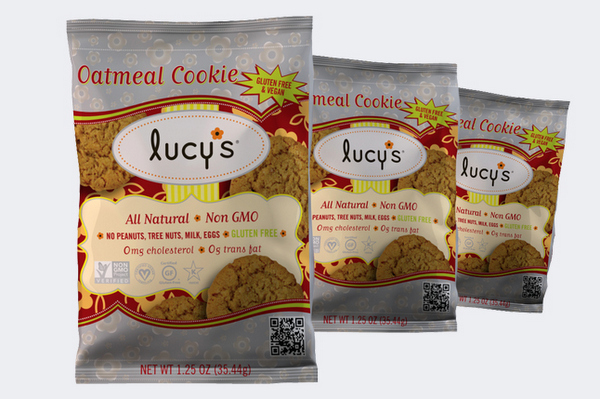 Lucy's snack line was founded by Dr. Lucy Gibney, who wanted to make delicious food for her child who had severe food allergies. Fortunately for the rest of us, what started in a mother's kitchen has led to the perfect alternative for those who need to avoid some of the most common allergens.
Allergens begone!
If your child gets diagnosed with a food allergy, you will learn to read ingredient labels, and it can be disheartening to discover how many of her favorite foods contain the very ingredient she must avoid. Some of the most common allergens are milk, eggs, peanuts and tree nuts, and those are present in most baked goods -- not to mention gluten, which is present in almost all of them. Lucy's cookies and treats are free from all of those, and the company utilizes a dedicated bakery which not only excludes the allergens but routinely tests for their presence as well.
Good for playdates, parties and daycare
These snacks are perfect for toddler playdates and birthday parties. Even if your child or her little friends suffer from these food allergies or celiac disease, you don't have to worry about triggering a bad reaction from these treats. And in daycares that utilize a nut-free policy to protect food-allergic kiddos, these will be welcome for celebrations.
Other allergy-free solutions
Even if your child hasn't started on solid foods yet, you'll feel more comfortable snacking on Lucy's cookies around her, especially if food or other allergies run in your family. And they will also help you travel into other nut-free zones, such as indoor playgrounds. Even if your child doesn't suffer from food allergies or celiac disease, you will feel better not exposing other children to an allergen that may make them really sick.
In our family
"It's nice to have a product that they all can enjoy without anyone feeling left out. Thank you Dr. Lucy."
Three of my kids are on all sorts of special diets. My oldest son is totally allergy-free, but when my second was in preschool, he was convinced to try a cracker with peanut butter on it and broke out in hives. While Dad and I both have environmental and pet allergies, we weren't expecting a food allergy in any of our kids. Our third child seemed to be fine on the food front until we discovered that she had celiac disease when she was 7 years old. And our fourth child is allergic to milk, eggs, tree nuts and peanuts.
They were thrilled to have something new to try, and I enjoyed them too. They are so easy to take with you, with individually-wrapped portions you can pop in your bag to eat wherever you are.
So it's nice to have a product that they all can enjoy without anyone feeling left out. Thank you Dr. Lucy.
More toddler snack ideas
Healthy and easy: Sprout Foods new toddler snacks
Toddler Treat: Sunshine Wraps
C is for Cereal: New Post Sesame Street Cereak