Hit The Road With Baby
It's summer -- time to get out of town for some serious vacationing. New parents may be hesitant to travel with baby but as long as you're well prepared, traveling with baby -- whether on a plane or in a car -- can be a breeze.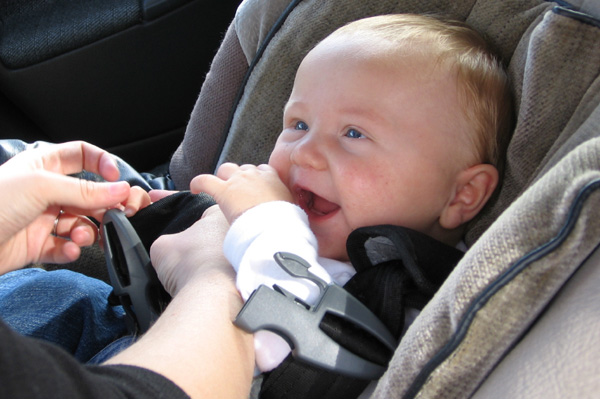 Timely travel
Whether you're setting out for a road trip or a flight, schedule your time accordingly. If baby tends to fall asleep to motion, plan to travel at night or during nap time so baby can sleep right through your travel time -- making it easier for everyone! If you can't swing that, travel during a time when baby is happiest -- like after a nap, a good feeding and a fresh diaper change. Few things are worse than traveling with a cranky baby.
Diaper bag essentials
Speaking of diaper changes... be sure to pack plenty of extra diapers and wipes and change baby often throughout the course of your travels. Stock your bag with bottles (and back-up bottles), snacks, pacifiers, rattles and other soft toys baby can hold, teethers, extra change of clothes, blankets, socks and baby's favorite stuffed animal or blankie.
Plan for pit-stops
When you're on the road with baby, you will not likely be able to drive through to your destination without making a few stops to feed or change baby or simply give him a breather from the confines of his car seat. No, you can't ask the pilot to pull over while you soothe baby out of a crying jag, but you can walk the aisles with baby (so long as the seat belt sign is off and flight attendants give you the okay) in an effort to comfort and calm him.
Dealing with unfamiliar surroundings
When you reach your destination, let baby get familiar with his new surroundings, whether it be Grandma's house or a hotel room. Bring as many items as possible to help recreate baby's usual surroundings, especially for nap/nighttime (like his favorite blanket and nighttime light/music player, for example). Try to keep baby on his same routine regarding feedings and sleep as well.
Relax
Above all, relax and go with the flow if you experience any bumps in the road during your travel like a flat tire or a delayed flight. If you freak out, baby will sense your anxiety and follow suit. Relax and handle the situation with a clear head and calm attitude and baby won't even know something is not going according to plan!
More on travel with baby
What a trip! Air travel with an infant
Top 10 baby travel tips
Tips for traveling with a newborn