Cool Clothes For Hot Summer Months
Yes, summer is here. And it's hot out there. That doesn't mean baby has to sacrifice cuteness for the sake of comfort. These must-have outfits will keep baby lookin' cool all season long.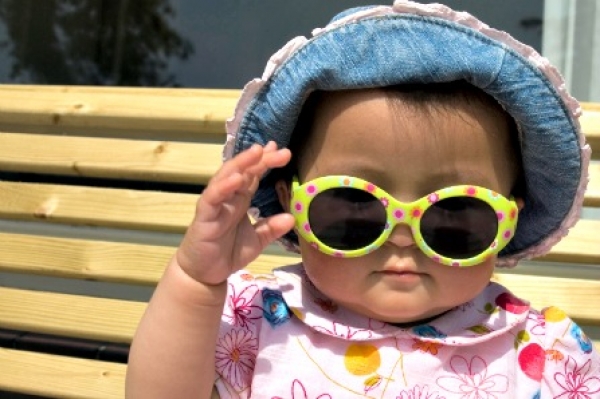 Summer dressing tips
Remember that dressing baby in the sweltering months is all about keeping baby comfortable. But temperatures can be much, much colder inside restaurants and shops, so dress baby in layers or pack along a light, breezy you can cover baby in if the temperatures indoors or out suddenly drop. It's also wise to pack socks (or soft-soled shoes) and a wide-brimmed hat in the diaper bag for summer outings.
Best summer baby clothes
These summer pieces are both comfy and cute.

Jaxxwear
The company worked with the finest cotton producers in the world to develop a washed 100% Peruvian pima cotton fabric that has a soft and silky finish. Jaxxwear prides itself on producing extremely soft garments, which are hand printed, pre-washed and pre-shrunk. Check out the darling Summer 2013 collection featuring cute ensembles like this Pink Picnic onesie, $37.
Violet + Moss
Available through Kate Quinn Organics, the violet + moss infant outfits are a mixed of surprising sophistication and darling charm. The 100 percent organic onesies are soft and practical but are super cute thanks to unique patterns and details like pockets. We love this giraffe bodysuit with real pocket, $34.
Old Navy
Not all summer ensembles have to come from fancy baby boutiques. Old Navy has a vast selection of cool and casual baby wear that you won't cry over if baby's most recent blow-out stains it beyond repair. This multi-stripe gauze dress is not only adorable and made from 100 percent cotton. But at just $20, it's also super-practical and affordable.
Under the Nile
Under the Nile promises its products are made with the finest Egyptian organic cotton, without the use of pesticides or chemicals throughout the entire production process. We just love the adorable summer babybody sleeveless onesie emblazoned with an owl, $15.
Although you may be tempted to dress baby in some crazy cute ensemble, it's important to choose comfort over fashion -- baby will be much happier that way. And a happy baby equates to a happy mommy!
More on summer babies
10 Ideas for summer fun for baby
Dress baby for summer
6 Hot summer products to keep Baby cool