Early Education For Baby
Mom and baby classes from music to tumbling to swim can be educational as well as fun for you both.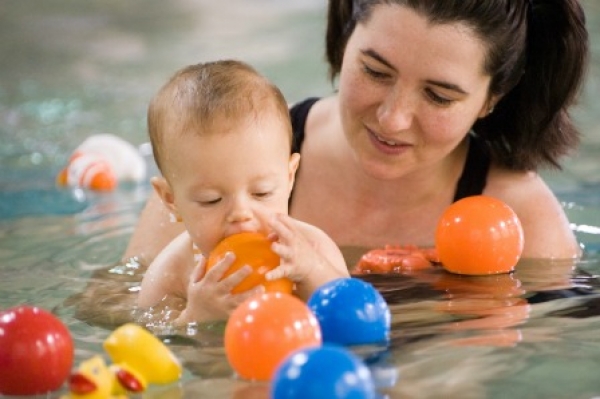 Swim classes
Infant swim classes generally start at about six months old -- and require a parent or guardian to be in the pool with baby during the class. While the classes are not intended to actually teach baby to swim (be weary of those that make that promise), they will give baby a safe and fun introduction to the water and provide bonding time with baby in a social environment.
Tumbling
If you have an active baby on your hands, consider a gymnastics or tumbling class at a place like The Little Gym. Parent and child classes are available for babies as young as four months old and offer baby increased physical strength and muscle control, fine and gross motor skill development, coordination and balance as well as spatial and perceptual awareness, language development and self-expression and more.
Music
Music classes like those at Gymboree Play and Music provide a fun and social environment for you and baby while helping baby with developmental and musical skills like discovering melody, rhythm and pitch through song. Classes for older babies include dancing and singing as part of the music education classes.
Sign language
Sign language has proved to be beneficial for hearing babies because, according to an article from The American Sign Language University, babies who sign early have not only an advantage with their sign language skills but their speaking and vocabulary growth as well. Research sign language classes or instruction in your area or teach baby yourself with the help of a book like The Baby Signing Book and Baby Sign Language Basics, both available on Amazon.
Baby and mommy yoga
Many yoga studios offer Mommy and Me post-natal classes designed for new moms and their babies -- some as young as six weeks old. These classes are intended to help ease mom back into gentle exercise while she bonds with baby.
More on baby development
Baby fun 101
Make tummy time fun for baby
Swimming classes for your baby