Belly Bands Help Dads Connect
Dads can place their hands on their partner's belly to feel the baby's movement, but a few lucky dads in Argentina got to feel the movement on their own bellies as well for a Huggies commercial.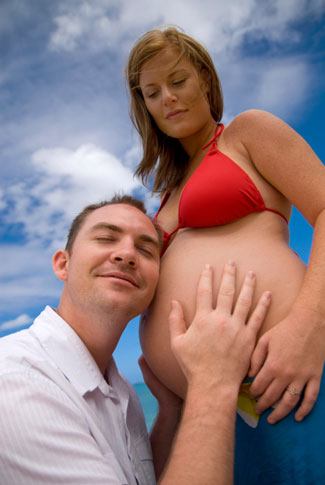 It's too bad these aren't available to purchase for the dad-to-be in your life -- the Kimberly-Clark Corporation (the company that makes Huggies disposable diapers) has created a pair of special belly bands that allow men to feel their unborn baby's kicks.
Sweet commercial
The pair of pregnancy bands was created exclusively for a Huggies commercial that was filmed in Buenos Aires, Argentina. The large white bands, which are full of electronic sensors and LED lights, cover the abdomens of each parent. With every movement in the mama's belly, lights shine and the father feels a small vibration in the same area.
While not totally replicating fetal movement (because really, how can a belt replicate a foot ground into your ribs or a head butting your bladder), the belts do give dads-to-be a little more insight into all of the activity the pregnant mom gets to experience.
The best part of the commercial is the look on the dads' faces when they feel the movement on their bellies -- surprise, laughter and even a few tears. It's really sweet to see the couple look at each other in delight when the movement starts happening.
Not for sale
Unfortunately for expectant couples, the pair of belly bands is not for sale and was created exclusively for this commercial. Eric Bruner, a spokesman for Kimberly-Clark, said that while it was a one-of-a-kind device, they have received plenty of interest and are currently evaluating their options, so maybe -- just maybe -- they will be a baby registry must-have in the future.
Tell us!
If a device like this was available in the future, would you consider getting one?
More on dads
8 Ways for dad to bond with baby
Skin-to-skin with Daddy
Dads in the delivery room