Baby Brother For Nahla
Halle Berry and her fiance, Olivier Martinez, have announced that the baby they are expecting later this year is a little boy.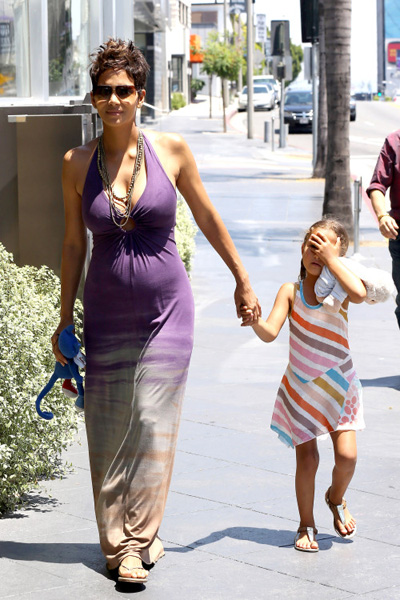 Halle Berry, 46, and fiance Olivier Martinez, 47, are expecting their first child together, and have announced that their little tyke is indeed a boy, confirming earlier rumors that have been swirling about for some time.
It's a boy!
Martinez was the bean-spiller with this tidbit of info, having shared the news during the opening night of the Champs-Elysees film festival in France, where he is the festival's honorary president this year. Berry will join her fiance as a special guest of honor at the festival, and you can be sure that her bump will proudly be on display, as it is in this lovely photo.
This is the first child for the couple, but Berry has a daughter, Nahla, from a prior relationship with model Gabriel Aubrey. They live in the United States, and Martinez proudly says that his son will be an American.
Pregnancy past 40
Pregnancy past the age of 40 has become more common in the last few decades as women delay childbearing to pursue careers or more financial stability. While most pregnancies in older moms result in healthy babies, there are some risks that doctors will keep in mind as you grow and develop your baby over the next nine months.
Getting pregnant after age 40 is half the battle, as your egg supply decreases as you age and those that remain are slightly more likely to have chromosomal problems. And the clock is ticking -- the more years past 40 you are, the more difficult it can be to get pregnant.
The good news is that doctors have even more tools and technology, so if you need help conceiving, your luck will likely improve if you consult your physician.
After you've conceived, you will be monitored closely until your baby is born. Halle Berry probably has the best physicians at her beck and call, but there is no reason a non-celebrity can't have a healthy pregnancy past age 40.
More celebrity pregnancies
Kate Middleton may give birth near family home
Halle Berry pregnant again at age 46
Josh and Anna Duggar welcome baby number three