Quick-Thinking, Life-Saving Surgery
Doctors in Kansas City have used surgical super glue to save the life of a baby not yet a month old -- the first time the procedure has ever been used in such a young infant.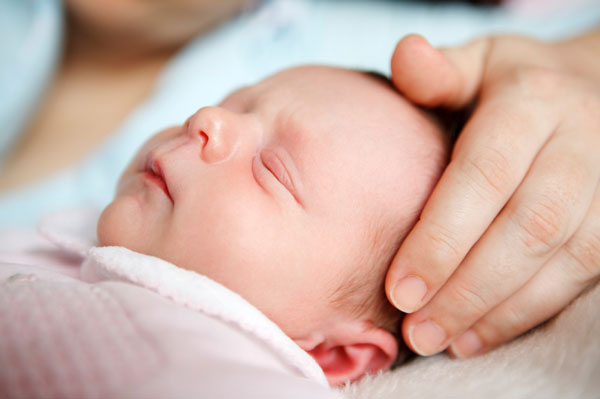 Ashlyn Julian was born May 16, and was, at first, a happy and content baby. Her mother, Gina, knew that something was wrong when the baby started non-stop crying, screaming and throwing up. A visit to the ER turned into a transfer to a more specialized hospital and a unique, life-saving surgery -- using surgical super glue.
Surgical super glue
An ultrasound was administered on the baby's head, and once they realized that something serious was going on, she was transferred to the University of Kansas Hospital. There, doctors found an aneurysm the size of an almond in a delicate blood vessel in the baby's brain. They believed that she had already had a couple of episodes of bleeding and didn't want to risk operating on her skull, so they chose instead to use surgical super glue.
They accessed the aneurysm through a blood vessel in her hip, using the smallest adult-sized instrument they had, and gently ran it through her body to her brain. Dr. Koji Ebersole was able to use the tiny instruments to deposit the sterile super glue and seal the vessel so Ashlyn wouldn't suffer a potentially-fatal hemorrhage. "If you try to treat the baby without closing the aneurysm, meaning conservative treatment, support the baby, and hope that the baby will heal itself, most of those babies won't survive," Ebersole told KCTV 5. "So we had a strong reason to develop a plan to close the aneurysm."
Full recovery expected
Doctors expect Ashlyn to fully recover. She is still in the hospital and will need to have blood and fluid drained from her brain, but all indications are there that she will enjoy a long, healthy life. There is the possibility that the surgery caused a small stroke that may affect one of her legs but she's moving it normally, so hopes are high that she will completely recover.
More amazing news
Two sets of identical twins at once
Josh and Anna Duggar welcome baby number three
Mom discovers stolen baby photos on Facebook