Wonder, Beauty And That Newborn Smell
Your newborn brings not only challenges, but an amazing rush of feelings that you never knew were possible. These moms told us what made those first few weeks with their newborns totally magical.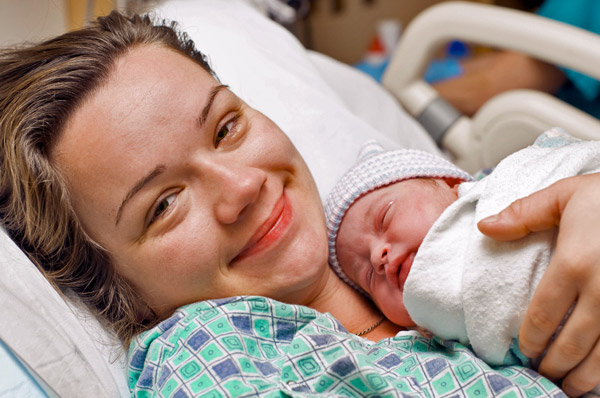 Did yesterday's post help you realize that you're not the only one who had a challenging time during the newborn period? Well, today's will hopefully help remind you how exquisitely beautiful and fleeting the newborn phase is.
Diana, mom of two: "Looking in her eyes and realizing that you created this life. And being able to see parts of you and your husband in her face. I am still amazed by that, even now."
Jessica, mom of two: "The unconditional love I instantly felt for each of my boys. There was nothing I didn't love about them and nothing could ever change that. Knowing they were made from part of me and part of my best friend was just mind boggling to me. I seriously feel like the luckiest woman in the world to have my boys! And the smell of them is intoxicating!"
Heather, mom of two: "I think there is something that is so pure and beautiful about the beginning of life. Here is this perfect being, and they are yours. What an honor that is."
Niki, mom of one: "For me the most rewarding thing about having a newborn is that despite all my infertility issues, that I was still able to create a precious life like any woman should be able to. Every needle stick, every blood draw, every negative pregnancy test, every procedure, every pill I had to take, it was all worth it! The first time I got to hold my son was pure magic."
Meredith, mom of two: "I love watching the family get to know and love the little person whose hiccups and kicks and rolls only I really felt for so long. Also the smell. That sweet baby scent is intoxicating!"
Katie, mom of two: "The realization that with all that goes wrong in life and the world, witnessing how something so complex is made is breathtakingly miraculous."
Lexi, mom of one: "Watching your husband fall in love with his daughter. The best, most beautiful thing I have ever experienced."
Rachael, expecting her third: "I think its the immediate, insanely intense love for this tiny human you have only just met. It's like you've known them forever though, they just fit."
Becky, mom of three: "Creating a perfect, innocent creature that's only emotion is love. It doesn't know hurt or hate or anger, only love. And for the moments you're with them, that is the only emotion you know also."
Brittney, mom of two: "Seeing her face for the first time and feeling every doubt that I had during the pregnancy wash away in the very same instant. Watching my 3-year-old turn into a big sister and seeing the intense amount of love in her eyes every time she looks at her new baby sister, and watching her smile back at her. When they stare at you while nursing, so you smile, and they smile back, causing them to unlatch and milk to run down the side of their cheek."
Jenna, mom of two: "The fact you actually created a person. You created a heart that beats. It's intense."
Rebecca, mom of four: "Huffing their heads. OMG the pheromones!"
Tell us!
What was your favorite part about being the mom of a newborn?
More on newborns
Dress baby for summer
The top 5 infant ailments
Tips for traveling with a newborn