Moms Get Fit With Easy And Fun Fitness
If you're expecting a baby, or looking to get back into shape after your baby has arrived, fitness expert Erica Ziel has just what you're looking for.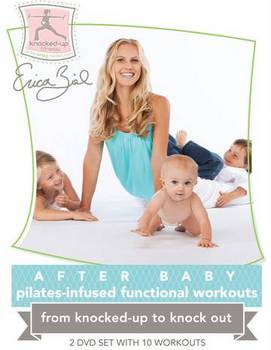 Working out is often a goal of moms-to-be, and even more of a goal after her baby is born. The problem is that it's hard to get motivated to work out, and exercising can be a bit of a drag. This is where Erica Ziel comes in. A popular and sought-after fitness expert, she turned her expertise towards moms-to-be and the postpartum mom and designed programs to get women back into shape with fun and easy workouts that can be incorporated into their daily routines.
Prenatal DVDs
The Prenatal 2 DVD Set (Knocked-up Fitness, $38) includes both Pilates-Infused Fitness and Prenatal Core Pilates Workouts. The first includes five different workouts that you can combine and personalize, which fuse cardio, Pilates and conditioning exercises for safe and effective prenatal fitness. The second works to strengthen Mom's core with a mixture of yoga, cardio, pilates and other exercises.
After Baby DVD's
The After Baby 2 DVD Set (Knocked-up Fitness, $38) is designed to get you back into shape after your baby is born, no matter how long it's been. They both feature exercises designed to get you "From Knocked-Up to Knock Out." The first DVD contains beginner and intermediate workouts including kegels, arm sculpting and full-body Pilates exercises. The second DVD will take you through intermediate and advanced workouts that help build abdominal strength, butt and leg sculpting, cardio intervals and advanced full body exercises.
Motivation and inspiration
I was able to ask Erica a few questions about her really fun exercise programs (I tried some out -- they really are easy to work into your daily routine). She recognizes that moms are challenged to find motivation to work out in the first place. "Many moms do not put themselves as a priority," she told us. "By the time they think about working out, they are too tired and motivation is just not there. It is hard to get motivated when you are also sleep deprived -- your body does not let you work out as hard when you are not getting adequate sleep."
I wanted to know why her routines are easier for moms to do and how they are different than other programs. She explained that her workouts are short and easy to both customize as well as work into your day. "Many moms have commented that they love my short workouts (both during and after pregnancy) because 10 minutes is doable and they often find themselves completing an entire 30-minute workout because after the first 10 minutes, they just wanted to keep moving," she said.
To find out more pregnancy fitness info, be sure to check out her website Knocked-up Fitness, which has loads of articles and tidbits that every mom (and mom-to-be) can use.
Exercise is good for everyone, especially pregnant women and moms with babies, who often put themselves on the back burner. Fortunately, Erica Ziel's workouts make this easeir than ever.
More on prenatal health
Understanding prenatal test results
Eating and drinking while working out
Postpartum changes and your body