Label Your Child'S Bottles Easily
Babies and toddlers in daycare are often required to have their bottles and sippy cups labeled with their names. Instead of taking a permanent marker to your child's drinking vessels, snap on a label from Kidaroo Crew instead.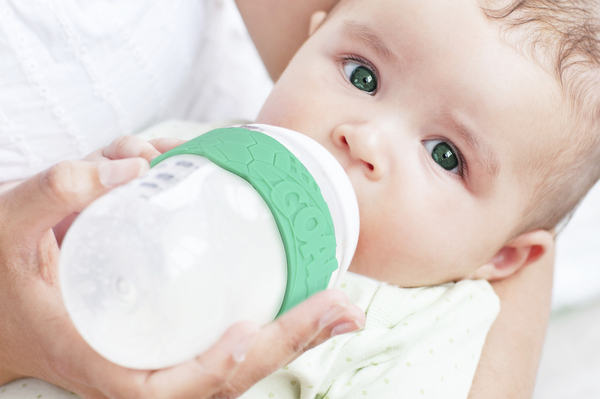 Masking tape and permanent markers are often used by moms and dads who are required to label their child's bottles and sippy cups for daycare, but these either leave a permanent mark or a sticky residue, both of which are nearly impossible to remove. Kidaroo Crew has a couple of really innovative products that can solve your bottle-labeling dilemma -- Sippy Grab Write On Designer Cup & Bottle Labels and Snugaroos Custom Engraved Labels.
The ease of snapping it on
Both products feature cute child-friendly designs. The Sippy Grab Write On Designer Cup & Bottle Labels (Kidaroo Crew, $6 for a pack of two) can easily be personalized by the parent or caregiver, and the Snugaroos Custom Engraved Labels (Kidaroo Crew, $10 for a pack of three) can be custom engraved with a child's name. They both work the same -- they are designed to stretch over the bottle or cup and snap snugly into place. "Both products are made of FDA compliant material, and are lead, phthalate, and BPA Free," said Jill Smith, owner of Kidaroo Crew. "They are dishwasher and microwave safe, and also help little hands grip their cups and bottles easily."
Other features
There are many other features of this unique and very cute labeling system:
Mom-created
Perfect for daycare, play dates, sporting events or preschool
Won't peel or fade away
Reusable
Keeps germs away by preventing mixups
Ideal even for older kids
Hard to remove for little ones
Excellent gift idea
Kidaroo Crew has many different colors and designs, so add a few of these designer labels to your bottle or cup stash to keep your child's bottle identifiable and super cute at the same time.
More must-haves
Must-have pregnancy gear
Baby gear to make Mom's life easier
Save on baby gear