Importance Of Skin-To-Skin Contact
May 15th is National Kangaroo Care Day -- do you know what kangaroo care is, and how it benefits both Mom and Baby?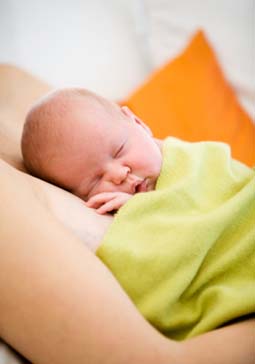 Kangaroo care describes the practice of a mother, father or other adult holding a newborn baby on their chest skin-to-skin. Not only does it benefit full-term babies and their mothers, but it's commonly recommended to parents or premature babies as it improves their health and overall outcome.
Free webinar
On Wednesday, May 15th at 8 p.m. EDT, Nancy Holtzman, Hope Parish and Daniela Jensen will host a free webinar discussing the history and origin of skin-to-skin baby care and its many benefits. Even if you're not able to sign in during the webinar, you can register at the site and an email will be sent to you after the program with a link to download a recording at your leisure.
"We'll discuss separation vs. non-separation, newborn sleep patterns, and how skin-to-skin helps to achieve breastfeeding goals," they said. "Learn practical details to the practice in a variety of settings and what 60 minutes of uninterrupted skin-to-skin contact will deliver."
Kangaroo care benefits
Kangaroo care is seen as essential inpatient care for preemie babies, but it also has plenty of benefits for both full-term babies as well as the parent who holds them. For Baby, kangaroo care assists brain development, stabilizes her heart rate and breathing, helps build immunity and encourages breastfeeding. For mothers, kangaroo care helps increase breast milk production, reduces the risk of postpartum depression and speeds recovery time.
Hope and Daniela are the founders of the NüRoo Pocket (NüRoo, $60), a really lovely and revoluationary babywearing shirt that is designed to keep baby close to you during the newborn period (it holds babies up to 15 pounds). It enables plenty of skin-to-skin time and moms don't have to worry about using a separate baby carrier. They hope to see the shirts used in the inpatient hospital setting to make kangaroo care easy and accessible for parents, but they're also a great gift for any mom-to-be.
More on newborn babies
How many diapers does a newborn need?
How to care for your baby's umbilical cord
11 Ways to beat new mom fatigue