Diaper Bag 101
Wondering what to put in that shiny new diaper bag you got at your baby shower? We asked real moms their opinions and are rounding up our favorite diaper bag essentials.
As a new-mom-to-be preparing for her first baby, I had no idea what actually went in a diaper bag and felt a little overwhelmed at the thought of stocking one. Other than looking for a fierce diaper bag and stuffing it full of well, diapers, I was a little lost as to what else went in there.
I quickly polled other moms to get the 411 on what should go in a newborn diaper bag. See what they said.
Diaper bag essentials:
The dream tote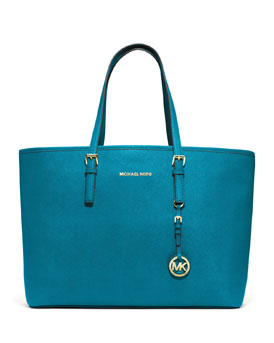 No need to splurge on a fancy diaper bag that looks like a purse. Most moms overwhelmingly agreed that a stylish tote with plenty of pockets was the way to go for stashing diaper bag gear. New mom and SheKnows food editor Christina Haller said, "I have a gorgeous leather Michael Kors tote that I use as a diaper bag – it's pretty big, but I carry it even if I don't have [my daughter] with me." 
Other favorite choices included Petunia Pickle Bottom diaper bags, Vera Bradley totes, and a hobo purse. If using a purse "Make sure that it has some internal pockets for small stuff like pacifiers, socks, etc.," said Kristin Bustamante, SheKnows editorial director and mother of two.
Try: Michael Kors Tote ($298) in Turquoise. The bold blue color can take you from summer to fall and the interior pockets will help keep baby gear organized. Plus, it's a super chic way to transition into mommy style.
Double duty diaper bag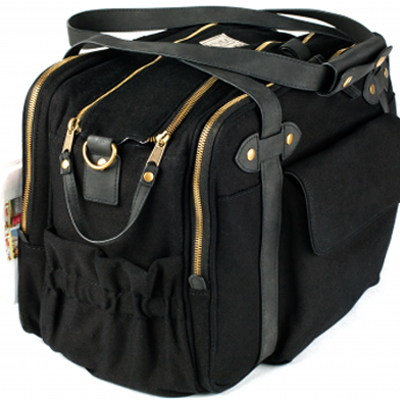 If both you and dad will be sharing a diaper bag, he'll probably want a bag that won't compromise his manhood to carry around. Get a diaper bag that'll fit both of your needs – one that'll keep you organized and looking chic, but he won't be embarrassed to carry.
Some parents swear by using a backpack for full functionality. "I had a backpack diaper bag that I loved and used well into toddlerhood. It's brown, so it doesn't look 'baby,'" said Betsy Bailey, founder of SheKnows.com.
Try: SoYoung's Charlie bag ($175) available in black, khaki, and slate. Both mom and dad will appreciate the stylish, yet super functional, lifestyle bag design. It converts to a backpack for hands-free use and also comes with matching stroller straps.
Diapers and other baby gear
Obviously diapers are a key component of a diaper bag. Nancy Price, SheKnows.com founder, recommends packing at least 5-6 diapers for a newborn, even for a short outing. "Always bring more diapers than you imagine you'll need," she advised. "Things happen – plus, sometimes another mom or dad will need your spare!"
Moms said other diaper bag essentials include a changing pad, wipes, ointment, burp cloths, swaddle blanket, bottles, a pacifier, and small toy.