Can'T Quit? Supplement With Vitamin C
Pregnant women should not smoke at all, but recent research has found better outcomes for the baby if mom supplements with vitamin C.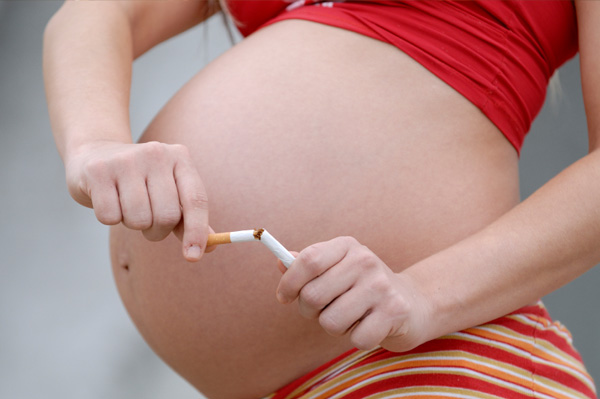 If you're a smoker, you're advised to quit smoking well before you conceive, but if you find yourself unexpectedly pregnant, you should still try to break the habit. It's a hard one to break, but recent research has found that while you're trying to quit, supplementing with vitamin C can improve Baby's lung function during the first year of life.
Vitamin C and lung function
Kicking a smoking habit is extremely difficult, even when the health of another person depends on it. A new study has given the babies of smokers some hope, however. Research was conducted on 159 pregnant women who were unable to quit smoking. Participants were given either one 500 milligram capsule of vitamin C or a placebo daily, and their newborns' lung function was tested at 48 hours of life. Those whose mothers had taken the vitamin were found to have significantly better lung function than their peers whose moms took the placebo. A follow-up questionnaire at one year of age revealed that the vitamin C babies also had fewer episodes of wheezing and other respiratory symptoms than the other babies.
"Vitamin C is a simple, safe and inexpensive treatment that may decrease the impact of smoking during pregnancy on childhood respiratory health," said the study's lead author Dr. Cynthia T. McEvoy, professor of pediatrics at Oregon Health & Science University (OHSU) Doernbecher Children's Hospital.
What this means for you
If you're pregnant and struggling to quit smoking, consider taking vitamin C (ask your doctor first if supplementation is approved for your pregnancy). Think of it as a safety net as you try to quit smoking -- if it turns out that you cannot put your cigarettes down, you've given your baby a better chance of improved lung function.
Priority should be given to smoking cessation -- tell your doctor up front that you're a smoker and see what tools he has to help you along your way. But in the meantime, see if vitamin C would be an option for you and your baby.
More on smoking and pregnancy
Six good reasons to quit smoking today
Secondhand smoke exposure during pregnancy linked to behavior problems
Another reason to not smoke during pregnancy